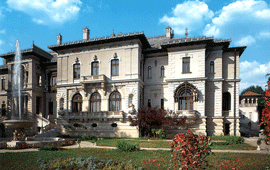 The Bucharest 2011 Early Music Festival
Thursday, 20 October 2011 , ora 10.41

The Bucharest 2011 Early Music Festival, one of the best-known art music events in Romania, will take place between October 26
th
and November 30
th
, 2011 at the
Cotroceni National Museum
.
This year, the sixth edition of the Festival offers its audience a musical journey to Baroque Europe. This journey of initiation will take its audience to 18th century France, Italy and Germany. The Early Music Festival will bring on the capital's stage musicians from Belgium, Norway, Austria, Japan and Romania, during three concerts which are to take place on October 26th, 29th and 30th, in the Great Reception Room of the Cotroceni National Museum.
Organized under the high patronage of His Excellency Philippe Beke, the ambassador of the Kingdom of Belgium in Bucharest, the Festival equally pursues an artistic dimension as well as an educational vocation. The event intends to go beyond the limits of a scholarly audience, with the aim of addressing broader audiences. The concerts of the Festival invite the audience to discover the spirit of the Baroque age by means of music, historical instruments and distinctive performing techniques.
The warm and open atmosphere of the concerts will be outstandingly completed by the refinement of the Great Reception Room of the Cotroceni National Museum, the place where the concerts are to be held. Carried out in the neo-Romanian style, the Room frames and highlights through its setting and acoustics the 18th century music performed during the Festival.

The Festival Programme
The 2011 edition of the Festival merges the baroque music spirit within three outstanding concerts.
On Wednesday, October 26th, the Ricercar Consort ensemble perform the From times long forgotten - the Baryton concert, with a repertoire including baryton trios by J. Haydn.
On Saturday, October 29th, the soloists of the Il Gardellino Ensemble and Ketil Haugsand invite you to the European Gala, a concert of baroque music from the entire continent.
On Sunday, October 30th, the Festival ends with La Stravaganza, a concert of Italian and Portuguese baroque music performed by the Il Gardellino ensemble.

Further Information
Musicians of international calibre such as Marcel Ponseele, Philippe Pierlot, François Fernandez, Ketil Haugsand, Reiner Zipperling, Jan de Winne and Hervé Douchy, members of the Ricercar Consort, Il Gardellino and Camerata Köln ensembles will appear on the Bucharest stage this year as well.
The Festival has been organized in partnership with the Ministry of Culture and National Heritage, the City Hall of Bucharest, the Cotroceni National Museum and the Cultural Centre of the Republic of Hungary.
Tickets are sold through the Eventim network in the Germanos, Orange, Vodafone, Domo stores, Humanitas bookshops and Cărturești, and also online at eventim.ro. The audience are asked to provide an identification document on the concert evenings so that they may have access inside the Cotroceni National Museum.
For further details of the Festival, please visit us at www.earlymusic.ro.

Translated by Simona Gosu
MTTLC, Bucharest University