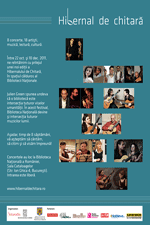 The Winter Guitar Festival begins!
Thursday, 20 October 2011 , ora 10.49

Eight concerts, eighteen artists, music, reading and culture. This is the invitation launched by the
Winter Guitar Festival
which opens on October 22
nd
, 2011, at the National Library. For eight weeks, the audience is invited to take place at the Saturday night musical feasts, which offer a varied programme, early music, chamber music, electronic music, flamenco, and poetry, quaver of the nightingale and guitar music. Julien Green once said that a library is the intersection of all of humanity's dreams. During this festival, the National Library becomes also the intersection of the entire world's music.
Here is the complete schedule of the festival:
Saturday, October 22nd, 7pm: Pilgrimage. Between Renaissance and the Balkans. An evening for flute and guitar music.
Saturday, October 29th, 7pm: Oh, so wild, so soft, so sweet. Night of early music.
Saturday, November 5th, 7pm: Palimpsest. Granitic rocks which melt and metasomatic minerals in which pre-existing mineral fusion reflects the legacy of metamorphic or layering structures. Readings from People do not deserve the poetry by Liviu Uleia.
Saturday, November 12th, 7pm.:
Caleidofon. An evening for two guitar music.
Saturday, November 19th, 7pm: 43/2.
An evening for lute, theorbo and guitar music.
Saturday, November 26th, 7pm:
Barochineria. An evening for violin and guitar music.
Saturday, December 3rd, 7pm:
Romancero Gitano. An evening of flamenco music.
Saturday, December 10th, 7pm: Garden of Delights. An evening for the nightingale and guitar music.

So, for eight weeks, we invite you to sing, read and dream together! The concerts are held at the Romanian National Library headquarters, Catalogues Hall (no.4 Ion Ghica). Free entrance.

The Winter Guitar Festival is an event at its third edition and is organized by the Kitarodia Cultural Association in partnership with the Romanian National Library. The project is financed by the Ministry of Culture and National Heritage. Partners: Polirom Publishing House, elefant.ro, BookMag, Radio Romania Music, 24FUN, Hotnews and Catavencii.
The complete festival schedule is available on www.hibernaldechitara.ro.

Translated by Florina Sămulescu and Elena Daniela Radu
MTTLC, Bucharest University