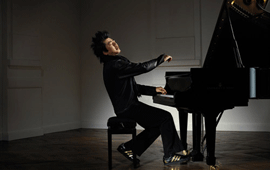 Lang Lang and The Philadelphia Symphony Orchestra at The Light Cinema
Tuesday, 25 October 2011 , ora 11.30

Thanks to Cristina Comandasu we find out that Liszt Day has made us, the Romanian people, feel even more anchored in a space of the entire musical world.

The following lines render our colleague's telephonic correspondence:
'Today, October 23th, 2011, I have witnessed an event which stroke me as entirely special. I found out about it from our studies, starting yesterday, because today at The Light Cinema Bucharest - as the organizers announced it- there was a live projection of concert performed by Lang Lang, who was accompanied by The Philadelphia Symphony Orchestra conducted by Charles Dutoit. It was not a live performance, in the sense that the concert was not playing both in America and in Bucharest at the same time. The concert was recorded on Saturday, October 22th, the date of the 200th anniversary of Franz Liszt's birth.

World Premiere
It is for the first time that an instrumental performer is consecrated a show which is broadcast live in cinemas in HD system, and no less than 150 cinemas around the world- in America, Europe and Asia- have took over this event. It must be added that Lang Lang, the famous Chinese piano-player who is now twenty-nine years old and is surnamed by the international press a superstar, has devoted some of his concerns to the launching of a new CD - it is called Liszt, My piano hero. The first part of what I have seen this afternoon was actually a recording of a recital performed by the young piano-player on July 25th, 2011, in London, consisting of solo pieces, at the iTunes Festival - iTunes does not only sell music, but more recently, it also organizes festivals. Then we could listen to a pseudo-live performance of The Philadelphia Orchestra rendering The Hungarian Rhapsody No. 2 conducted by Charles Dutois, a piece which is well-known to the public from cartoons, followed by an absolutely sensational Piano Concerto No. 1 by Franz Liszt. What I mean is that Lang Lang- who might be loved by some people, and disliked by others, but nonetheless a real superstar- is a great contributor to classical music and a fantastic ambassador to the young generation.
During an interview for the American organizers, the concert master of The Philadelphia Symphony Orchestra himself asserts the fact that Lang Lang's concerts attract young audience, which is extraordinary. Lang Lang succeeds in creating a show, and just listening to him is miraculous. At a certain moment during the concert I closed my eyes - the iTunes festival performance at least was accompanied by visual effects, as there were many screens placed behind the stage projecting different colourful pictures - but Lang Lang deserves to be seen live because as a pianist, he creates an extraordinary show and transmits so much sensitivity and force not only through his auditory discourse, but also through his visual one.

Lang Lang- the Liszt of our age
I think it was an extraordinary opportunity, mainly for promoting Franz Liszt, because while the entire musical world or music lovers know that 200 years from Liszt's birthday are commemorated, the majority of the audience might ignore this fact. Lang Lang launches this international project and manages to turn Franz Liszt into a real star of the year 2011, and I was even thinking that if Franz Liszt ever reincarnated into a contemporary personality, it would be someone very similar to Lang Lang.
Of course, it would be interesting to add that Lang Lang's latest CD comprising Liszt's works is available at Sony Music Records, and that the film that was shown at The Light Cinema, recorded in London in July, will be made available on DVD.

Another reason to be proud for Romanians
I would like to point out one last thing, that on visiting the Philadelphia Orchestra's website today, I was quite surprised to find out that yesterday morning- Lang Lang's concert was in the evening - there was another concert of the same well - known orchestra - the Philadelphia Orchestra is among the top five American orchestras - this time conducted by a Romanian, Cristian Macelaru, who is the assistant conductor of Charles Dutoit, the principal conductor of this orchestra. It is a source of pride for us, those here in Bucharest, that a Romanian, who left the country at seventeen and is now thirty-one years old, living in Philadelphia, conducts such a famous orchestra.'
This is a proof that Liszt is praised across the Atlantic too.

Translated by Valeria Anghel and Florina Sămulescu
MTTLC, Bucharest University