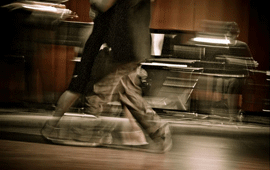 Fairytale tango at the Radio Concert Hall
Monday, 24 October 2011 , ora 11.50

Why do we love tango? Because its pace is liberating, for which constraint is unknown. Tango is one of the few dances which make two dancers move in unison, as if on a floor of fire and water, in a stirring pace which exudes of sensuality and to become one person. If you have seen the movie
'Tango
by Carlos Saura, you obviously understand what I mean. It is one of the most expressive dances and so the music that shapes it cannot come second to it. Tango music also makes me abandon the conventional tone of a review, which has no place in what I want to tell you next.
... Of us all
So, turn off all the lights and only let lit that one floodlight on the stage under which is the Gerardo Jerez Le Cam Quartet (led by the pianist with the same name and which also included Juanjo Mosalino who played the bandoneón, the violinist Iacob Măciucă and Mihail Trestian at the dulcimer.) The date: October 22nd, 2011. It was a revelatory evening which showed, once more, that tango is universal: it is also mine, and yours, and his or hers. Because the music of Gerardo Jerez Le Cam, the Argentine adopted by France, is as marked by the Romanian musical themes as it is by those from his native Argentina.
Gerardo Jerez Le Cam: ' The tango and the Argentinean influence are found naturally in me, because I was born and spent my childhood in Argentina. For twenty years I had the fortune of being in contact with a lot of Romanian musicians in Nantes, where I currently live. Thus Romanian influence is important for my compositions.'
And because a review so flattering may seem unrealistic, I also have a criticism for the evening of October 22nd: it was too short. But it was more than an hour and it was filled with a music that remembered of Ástor Piazzolla, but which was enriched with rhythms as if from Enescu or Bartók, and not incidentally, because Gerardo Jerez Le Cam views Romania like a second home, as he also declared:
'It is similar to what I feel every time I go back to my native country, Argentina. I find the same Latin temperament, the same improvisational spirit, the same familiar air. There are many things for which I enjoy being in Romania.'
Tango and the creatures of fantasy
All four members of the quartet understand and identify with this music created by Gerardo Jerez Le Cam, and piano - violin - bandoneón - dulcimer combination is an original one.
The passionate piano is subdued by the silky tune of the bandoneón (balanced so well by Juanjo Mosalines!), then the tone is once again fervent thanks to the violin, whose lines are spicy punctuated by the dulcimer. How can one not get lost among such meanderings? The tango adaptation of some of Bach's pieces was as much of a pleasant surprise as the interpretation of a piece entitled 'The Tulcea Moon', as if its story is claimed from the land of fairytales with virgin fairies, seductive dragons and other creatures of fantasy. The light went out, the darkness took hold of the concert hall 'Mihail Jora', but the silence still holds the crazy echoes of the evening that just ended.
Petra Gherasim
Translated by Florina Sămulescu and Elena Daniela Radu
MTTLC, Bucharest University