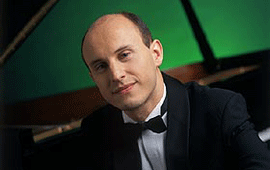 A new concert within the National Radio Orchestra season: Nelson Goerner and Horia Andreescu
Monday, 24 October 2011 , ora 11.59

The second concert within the 2011-2012 season of the National Radio Orchestra took place on Friday, October 21
st
, in the 'Mihai Jora' studio, having Horia Andreescu as guest at the music rack. Next to the absolute premiere of a Romanian piece -
Skepsis im Chaos
by Mihnea Brumariu, the programme included two musical works which have been less present on the stages of our country:
The Piano Concert for the Left Hand
by Maurice Ravel and Jean Sibelius's
Symphony No. 1
.
Dedicated to Maestro Aurel Stroe, Skepsis im Chaos is the debut piece of the same name cycle which alternates compositions for orchestra with musical pieces for various chamber ensembles. Written between 2004 and 2005, the musical piece deals with the dimension of time in music and makes use of a language with modal tone referrals and also a fascinating superposing of two levels, one harmonic, the other dissonant, thus creating a spacing impression, which expressivity comes to suggest film music.

Nelson Goerner - refined lyricism, remarkable technique
The October 21st programme continued with the well-known Piano Concert for the Left Hand by Maurice Ravel, written between 1929 and 1930 at the request of Austrian pianist Paul Wittgenstein, who had lost his right arm in the First World War. Ravel didn't wish to leave the impression of an easy-fitting canvas, but of a score designed for a two-hand play. Thus, an imposing style arises, one appropriate for traditional concerting and, of course, the technical difficulty that comes with such piece. The powerful sound - enriched in the expressive colors of Argentinean pianist Nelson Goerner, reinforced by a remarkable technique - has not for a second given the impression of a difficult to perform piece. And after such tour de force, the pianist, with his two encore performances of Chopin, allowed us to get to know his lyrical side, a refined, yet at the same time cerebral lyricism.

Of the Piano Concert for the Left Hand by Ravel and also of his collaboration with conductor Horia Andreescu, pianist Nelson Goerner shared with us his thoughts at the end of the concert:
'In my opinion, it is one of the greatest piano concerts. I have been playing it for two or three years and I am always eager to have it scheduled yet again, because I am very found of this piece, even more than of another Ravel concert, a wonderful work of music, I have also performed. But I can truly say that the Piano Concert for the Left Hand is to me a very special piece.'
Asked about his collaboration with conductor Horia Andreescu and the National Radio Orchestra, here is what the pianist had to say:
'I am very glad to have been brought back to Romania by Maestro Andreescu after so many years, I have not been here in the last six or seven years and was looking forward to coming back to your country. It is an entire history of concerts and recitals I have held in here and many friends I have been longing to see again. I hope that I would soon get to come back here to perform.'

Puzzle Programme
In the second part of the concert, we were able to listen to Symphony No. 1 in E minor, Op. 39 by Jean Sibelius, written in 1898, time in which he was asserting himself as composer, and revised two years later in 1900. The symphony follows the tradition of Classic Romanticism and alternates the energy and the dramatics with slow episodes, a melodious tone specific to the Finish composer. The suggestive force, the imposing themes and the timbre contrasts created through a rich and dynamic palette have been featured in the interpretation of the National Radio Orchestra, conducted by Horia Andreescu, Maestro to whom we have had the chance to wish, last week, a Happy 65th Birthday!
It has been an evening suited to all music preferences: suggestions of film music in Mihnea Brumariu's composition, jazz in Ravel's Piano Concert for the Left Hand and lastly, the symphonic signature of remarkable composer Jean Sibelius.
Andreea Chiselev
Translated by Alina Popa and Elena Daniela Radu
MTTLC, Bucharest University