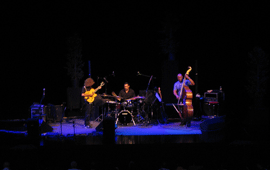 Pat Metheny Trio performing in Bucharest
Wednesday, 26 October 2011 , ora 13.39

The concert that took place on Tuesday evening, October 25
th
, 2011, is considered to be one of the most important events of the 2011 musical agenda of not only Bucharest, but of Romania as well. I have had the pleasure of admiring one of the greatest guitar players to ever have been born on this planet,
Pat Metheny
, alongside amazing drummer
Bill Steward
and contrabass player
Larry Grenadier
- two outstanding musicians even outside Pat Metheny's group, who has chosen at this time to come as a magic trio, to which he added several elements from the album
Orchestrion,
which is actually an entire machinery - an electromechanical actuated mechanism, coordinated by Pat Metheny through bracket commands, which resulted into something that has never happened on the stage of the Palace Hall and nowhere else in Romania for that matter, something that had us connected in a very pleasant, but also in a very firm manner to the musical reality.

Memorable
It would have been pointless to stress out the painful difference, the colossal difference, between what happens in here and what happens in other places - the level of education, mentality and poise of the foreign musicians. This time it was Pat Metheny - whom I have personally been waiting for twenty years - and he, same as I, said he didn't know how it happened that he never got to come to Romania up until now, but it is a good thing that he is finally here: he gave us a musical concert of extraordinary beauty both in composition, as well as in interpretation, which has been amazing. It has been an interplay as I have rarely been given the chance to see of a group performance and it astonished those few - distressingly so - spectators present. I am outraged to know that, for his first appearance in Romania, Pat Metheny had less than 2,000 spectators. It was a memorable show, in my opinion, and the fact that I am still in the same state of mind I was in last night after the concert, goes to prove it.
Berti Barbera
Translated by Zoia Ciacu and Alina Popa
MTTLC, Bucharest University