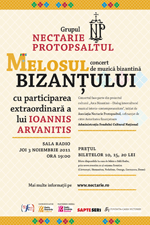 Byzantine Music at the Radio Hall
Thursday, 27 October 2011 , ora 14.01

Today's Byzantine music is successor to the songs which had once flourished in the Byzantine Empire. A music of a millennium old written tradition, of refined and complex compositions, by no means of a lesser quality than those of Western music. A vivid music, in which old creations - transmitted with barely any changes, or, on the contrary, subjected in time to numerous transformations - stand alongside compositions of the recent years. A craft and an art, taught from generation to generation, from master to apprentice.
The Nectarie Protopsaltul Ensemble is preoccupied with identifying the valuable scores and rendering them in a form as close to the original as possible, also taking into account the musicological research and the vivid oral tradition.
The Music of the Byzantium concert is aiming to present to the audience all the beauty, the rhythm and the joy of the Byzantine music. The concert's special guest is Ioannis Arvanitis from Athens, one of the most famous Byzantine music singers, who is also a great specialist in musical paleography and author of the theory which allows the most plausible reconstruction of the melodies from the Byzantine Empire period.
The Byzantine music lovers are expected at the Radio Hall on Tuesday, November 3rd, at 7.00 PM, to fully enjoy The Music of the Byzantium.

Translated by Anghelescu (Bobe) Anca Maria and Alina Popa
MTTLC, Bucharest University