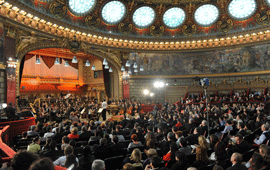 The Young Playing for the Young
Wednesday, 2 November 2011 , ora 10.25

One of the constant pursuits of the musical establishments of today is to bring the younger audience into the concert halls. In trying to find an answer to this problem, the
'Lanto Arte'
Cultural Association organised Saturday, October 29
th
, 2011, at the Great Athenaeum Hall a special event dedicated to this younger audience.
The night's protagonists were conductor Christian Badea and the Romanian Youth Orchestra, two names that are very active in the national cultural life and also in the international one, if we are referring to maestro Badea. They proposed a dynamic repertoire, pleasant for an audience of all ages. Thus, the works on the concert bill were the Overture to Tannhäuserby Richard Wagner and the Symphony No. 5 in E minor, Op. 64 by Pyotr Ilyich Tchaikovsky.
I would venture to say that the encores were the strong point of the whole evening. The Prelude to Carmen by Georges Bizet raised the level of enthusiasm and stood as a bridge between the romantic music and the next works on the playbill. What followed? The performers played American rhythms with Times Square piece, from the musical On the Town by Leonard Bernstein. The most pleasant moment was when they started playing this piece; an enormous joy could be seen on everyone's face on stage, joy that was translated into the sound.
After the concert, the evening continued with an after-party that took place in the lobby of the Athenaeum. With music still ringing in the ears, the party went on until late into the night...
Radu Mihalache
Translated by Florina Sămulescu
MTTLC, Bucharest University