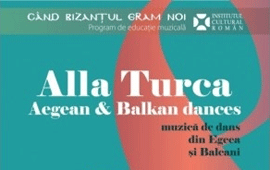 'Anatolia' Band's Recital at the Romanian Cultural Institute in Bucharest
Monday, 31 October 2011 , ora 10.40

The Romanian Cultural Institute, just as it has accustomed us lately, invited the audience from Bucharest to a new event where Balkan music blended with that from Middle East. The Turkish ensemble
Anatolia
was the spotlight of
'When we were the Byzantium'
series of events.

The idea behind the recital which took place on Friday, October 28th was that of an incursion in the world of dance music from the Aegean Sea and the Balkan Peninsula. The ensemble members, led by Neva Özgen, who played the traditional Turkish instrument kemenche (kemençe), were violinist Hakan ªensoy, lutenist Mehmet Bitmez, cellist Yelda Özgen Öztürk, guitarist Tolgahan Çoğulu and percussionist Güray Cantürk.

A less than ordinary musical programme
The repertoire was an interesting one and had some unusual points. Generally, they performed classic Turkish works, but along the way I also found creations by Grigoras Dinicu. Perhaps the most surprising moment was Bela Bartok's performance of 'Romanian Dances' in a manner that evokes more the Eastern space than the Danube one.
The highlight of the recital was when each of the musicians proved their mastery in playing the instrument during an impromptu moment.
The host of the evening was, as usual, Constantin Raileanu, the leader of the Antonn Pann group.
Overall, the recital of the Anatolia ensemble was a pleasant experience for the Bucharest audience.
Radu Mihalache
Translated by Florina Sãmulescu
MTTLC, Bucharest University