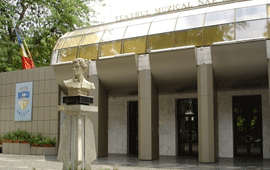 Enthousiastic Opera Gala and... low temperatures
Wednesday, 2 November 2011 , ora 11.02

A few years after the previous Master classes, the Musical Theatre of Galati took up the series of collaborations with professor Toma Popescu, by organising a new Master class ; the numerous participants reinstate the importance of such events meant to solve or at least to discover the problems of artists with stage experience -soloists or choralists, high school students, or Bucharest National University of Music students. Although a nonagenarian, Toma Popescu, had a long experience with the Vienna belcanto Studio he ran for decades, and managed to attract students of all ages through his methodology, his original vocalises or the solutions he proposed for the improvement of his students` singing.

Teen Opera Singers` Gala
At the end of working hours, some of the participants performed in the Teen Opera Singers Gala, in collaboration with the orchestra conducted by Leonard Dumitriu, who had a fairly difficult mission after the Prelude from Carmen by Bizet, because, as the artistic consultant Laura Sava stated, it was the first time that many of the participants sang in this formula.
One of them was Coca Teodosiade, a soprano who approached with great sensitivity and understanding Mimi`s aria from Puccini`s La Bohème. Another employee of the theater, Lăcrămioara Plato, a spinto-dramatic soprano rather than mezzo as desired, showed richness as well as an explosive temper in an aria from ​​Carmen and a duet from Mascagni`s Cavalleria Rusticana, alongside her former colleague from the National University of Music, baritone Florin Petre, not so naturally endowed (which surprised me ever since his performancefor the Bachelor of Music degree examination) but showing a lot of poise and a desire to learn, although, paradoxically, he himself is now a high school music teacher in Bucharest.
Moreover, the baritone was accompanied by a student taking his course, both of them working under Toma Popescu`s guidance.
Sopranos Adina Lazar (Oscar`s aria from Verdi's Un ballo in Maschera) Doina Munteanu (Musetta`s aria from La Bohème) Iulia Florea (Verdi`s Rigoletto) and Felicia Stamatescu (Verdi`s Traviata), mezzo-sopranos Iulia Modoran (Verdi`s Trovatore) and Gabriela Ferencz (Un ballo in Maschera) or Cosmina Stancu (Carmen), from the Musical Theatre vocal ensemble, sang with deep and real joy.
Bogdan Podlovschi (with arias from Mozart`s Le Nozze di Figaro and Donizetti`s L'elisir d'amore) and baritone Daniel Nistor (Nabucco by Verdi) also got on the stage with great confidence. In the end, they all came back in the spotlight with Brindisi fromTraviata in a sui generis combination (especially as there was no tenor in that equation).

A new master-class in May 2012
Cheered and applauded enthusiastically by colleagues, friends and by the audience, those who performed in the Gala and the other participants, were awarded diplomas by professor Toma Popescu and the Theatre manager Florin Popescu Melinte, seconded by his assistant, soprano Ana Condrea, both showing a lot of passion in their contribution to the personal development of those who are eager to learn. It is their enthusiasm and affluence that led to the decision of organising a new master-class in May 2012.
An initiative which certainly would have been greeted by a larger audience if it had not been for the cold; besides, as the Theatre`s manager stated, it is only 8 ° C in the study rooms, and around 15 ° C on the stage but only due to the spotlights; this led to suspending all shows scheduled for this week, in the hope that they would get back to their work, as soon as the long dispute between the town hall and the heat provider is solved- as it is also the schools, the kindergartens and obviously the town`s citizens, who suffer from the same reason.

Interesting exhibition in the foyer
Let`s hope that things will get back to normal, and the Musical Theatre hall will be assaulted again by music lovers who will discover a very interesting exhibition in the foyer, with a display of some very authentic photos. The exhibition is dedicated to the famous tenor Nae Leonard, on the 135th anniversary of his birth, 13th December.
The Theatre has been bearing his name for 55 years and will soon organise an event meant to evoke the artist`s personality and the defining parts of his short but spectacular career in the genre operetta. Projects are numerous and attractive, but they all depend on getting the necessary funds and, obviously, having heat in the building.
Anca Florea
Translated by Gianina-Aniela Casleanu
MTTLC graduate, Bucharest University