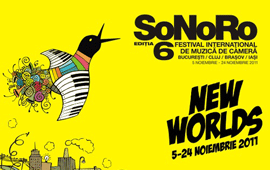 SoNoRo 2011 is opening 'New Worlds': to music, painting and verse
Monday, 7 November 2011 , ora 10.57

'
The traveller has to knock at every alien door to come to his own, and one has to wander through all the outer worlds to reach the innermost shrine at the end.'
These words, penned by Indian poet Rabindranath Tagore, could serve as a motto for this sixth year edition of the SoNoRo International Festival of Chamber Music. This time around, the organizers propose, through the New Worlds theme, a fresh artistic approach, in which the most diverse musical genres are complemented by the plastic arts and the written word. The festival opened on Saturday, November 5th, 2011, at the Cotroceni Palace - a place of excellence.
On the concept that supported the creative idea of this year's SoNoRo edition, here is what violist Razvan Popovici revealed to us at the musical evening's opening:
'We figured that after five years of SoNoRo, which constituted the building and consolidating process of the festival, we were ready to step into a new phase and New Worlds could be the promise title for future years. The idea we had put together, with the help of a good friend of ours, was to choose eighteen poems, creations of various Romanian and foreign poets - Iosif Alexandrovici Brodsky, Ana Blandiana, Guillaume Apollinaire - which would complement each other in a most harmonizing display to be unraveled during the almost three weeks of festival. I'm pleased that SoNoRo has gained in substance and length. After the concerts to take place in Bucharest, we are set to go to Brasov, after which we would continue our tour in Iasi, Bistrita and Cluj-Napoca.'

Among those present at the event, we have also spoken to Oana Davidescu, representing the Cultural Section of the Germany Embassy in Bucharest:
'My profession is not that of a musician, but I thoroughly enjoy listening to music and letting myself loose into a world of senses. I have known Razvan Popovici since his first attempts to establish the SoNoRo Festival. Everything went wonderfully, each edition comes to surprise.'

Starting with the Piano Quartet in C Minor by Gustav Mahler - interpreted by pianist Diana Ketler, violinist Benjamin Schmid, violist Razvan Popovici and violoncellist Adrian Brendel - continuing with Arnold Schönberg's Transfigured Night - performed in a trio version for piano - and The String Sextet No. 1 in B- flat major, Op. 18 by Johannes Brahms - the concert at the Cotroceni Palace has unraveled throughout the music dramatics. The first two opuses managed to impress through a profound sense of surrender, while Brahms's piano Sextet through an innovative mix of a late Romantic language, introverted and darkened by the Baroque feature, imitative-polyphonic, richly adorned and austere at the same time. It all goes to say that it has been a start of a good omen for the 2011 SoNoRo Festival, as well as a welcome invitation to listen to music at its best.
Alexandra Cebuc
Translated by Alina Popa and Elena Daniela Radu
MTTLC, Bucharest University