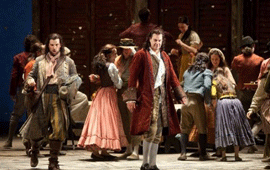 Don Giovanni
Wednesday, 2 November 2011 , ora 11.07

The second live cinematographic broadcast in High Definition of the New York Metropolitan Opera's current season, aired on Satuday, October 29
th
, 2011, featured Mozart's
Don Giovanni
. It is a new production directed by Michael Grandage, with, if I may say so, a quite traditional setting designed by Christopher Oram, who imagined a timeless, schematic backround production but beautiful period costumes.

An ideal director-conductor symbiosis
As is the case with great American theatre and great theatre in general, the director's highly effective touch inspired a dynamic, exuberant and unflagging stage performance, captivatingly rendered by the interpreters. The excellent coreographic bits arranged by Ben Wright can not be overlooked either. I believe that, from the start, there existed a perfect cooperation between the director and the very energetic Fabio Luisi, the Metropolitan Opera's new principal conductor, which resulted in an ideal symbiosis. The conductor's baton was nimble, in tune with the idea of a stage show, which the American public relishes. Perhaps this was the reason why the moments of introspection and subtlety were overshadowed by the torrential melodic flow, docilely sustained by the theatre's wonderful ensemble.

Flawless interpretation
The cast was well balanced, featuring fresh and stylistically adept voices. In the title role, the baritone Mariusz Kwiecien sang in a soft, often nuanced voice (especially in the second stanza of the duettino "Là ci darem la mano" and of the serenade) and with an impressive dramatic force at the end. The famous champagne aria was played at a dizzying tempo, more frenzied than elegant. The soprano Marina Rebeka was a Donna Anna with a poignant voice and an eagerness for the musical parts requiring the greatest agility. As Donna Elvira, Barbara Frittoli sang with a flawless phrasing, although the soprano's comeback to Mozart after being cast in some Verismo operas (in Tosca, for instance) did cause a perceptible vibrato. The bass Luca Pisaroni as Leporello was brilliant and faultless.
The sweet Mojca Erdmann and the harsh Joshua Bloom played the couple Zerlina-Masetto, giving good voices to their characters: lovely colourings in the case of the soprano and vocal versatility in the case of the bass. Having abandoned the height of the romantic spinto tenor roles, the star Ramón Vargas asserted his professionalism by bravely tackling Mozart's refined art. Finally, the bass ©tefan Kocán's deep voice is to be remarked in the role of the Commendatore, especially since his parts in the last scenes of the opera were not electronically amplified, as it is customary.
Having seen the performance on Saturday, we are looking forward to Radio Romania Music's live broadcast of An evening at the Opera on March 10th, 2012, when other voices will bring Mozart's characters to life.
Costin Popa
Translated by Luisa Alexandrescu and Elena Daniela Radu
MTTLC, Bucharest University