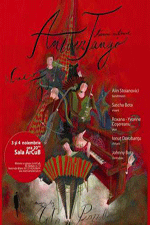 Tango Dolor
Tuesday, 8 November 2011 , ora 10.24

Tango is the unshed tear which embodies a sadness that cannot be expressed in words, but only in the rhythm of music and in motion, a tense motion in which the partner bounds his partner from the entire universe so they can begin together a dance in which they move as one being, obsessively spinning on the coordinates of their own Universe, a Universe that is born in their eyes. There is no embrace as tight as that of the tango, there is no coordination as harmonious as that between these two energies combined by some ingenious chemistry that no treaty can contain.

Anivertango - a homage paid to Ástor Piazzolla
When you listen to Piazzolla's music on a Friday night, at ArCub Hall, the seat next to you is immediately filled by that person whose soul instantly transforms so as to perfectly overlap yours. The same happens to the soul of the person on the left, at the front and at the back of you. You are all of a sudden an atom which is swooping upon the entire hall while the stage unleashes the sound that binds this molecular structure. You are wondering what was with this unbearable sadness that Piazzolla himself talked about. Why? Maybe because of the imminent destruction of yet another dream? Because of those heartbeats that joined together souls, for a period which seemed like an eternity for some time and which now melt into nothingness? Because that tight, bounding embrace, in which you automatically feel surrounded when you listen to tango, will release you at one point and will let you slip back into the mundane? Because you do discover that the passion of the tango is just a dream at the end of which you are left with the expression of a look so irremediably fixed into your look, that no matter where you turn your head all you see it is its hallucinating stare.

Painfully beautiful
It proved to be impossible not to surrender to those feelings on Friday, November 4th, 2011, at ArCub, when I listened to the members of the Nuevo TangoQuintet, in a recital organized by the 'Cervantes' Institute in Bucharest, in collaboration with the Spanish Embassy in Bucharest. Humans are genetically incapable of resisting this kind of music, even more so if it is performed at a professional level, as it was the case Friday night. The projection of some fragments of an interview with Ástor Piazzolla highlighted this discourse of sounds - very well placed fragments, as if to allow us to catch our breath after that whirlwind of sounds.Anivertango wanted to pay homage to artist Ástor Piazzolla, at the anniversary of ninety years since his birth. It was a painfully beautiful concert, one that I will listen to endlessly if the organizers ever propose this type of events again. In any case, the cultural offer of the Cervantes Institute and the Spanish Embassy in Bucharest is announced to be very interesting. We will keep you posted.
Petra Gherasim
Translated by Florina Sãmulescu
MTTLC, Bucharest University