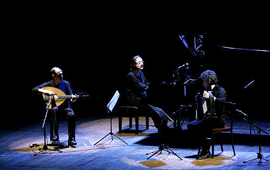 Concert 'Anouar Brahem Trio' at Radio Hall - November 19th
Thursday, 10 November 2011 , ora 13.12

On Tuesday, November 8
th
, 2011, there was a press conference that announced the extraordinary concert the
Anouar Brahem Trio
will be performing at Radio Hall, on November 19
th
. The co-producers of the concert organised by jazz.ro are Romanian Radio Broadcasting Company and Romanian Television. Cristian Moraru - executive director at jazz.ro, Liliana Staicu - chief-editor at Radio Romania Music, Voicu Radescu - executive director at Green Hours and TV producer Catalin Stefanescu - spoke at the press conference.

Music that has as guideline universality
The protagonist of the concert that will take place at Radio Hall, the Tunisian musician Anouar Brahem is a successful artist of our day, who managed to gain worldwide recognition by reinventing the instrument called oud - similar to the lute - which is used as a background for voice singing in Arabic music.
Anouar Brahem discovered the solitary valence of this instrument, in a music that has as guideline universality, by his desire to overcome cultural, ethnic and religious barriers. The artist will be for the first time in Romania on November 19th, together with pianist François Couturier and accordionist Jean-Louis Matinier. The three musicians will perform their latest project, entitled LeVoyage du Sahar, and the event will be opened by a trio of young grant musicians from the Princess Margarita of Romania Foundation.

Regarding the concert...
... Cristian Moraru, executive director of jazz.ro talked to us at the end of the press conference:
«It is a novel event, unique in the cultural area of Bucharest, just as the Modern Solo Piano project. It is very important that in the opening act of the Anouar Brahem concert we can bring extraordinarily talented young Romanians, who will perform a piece inspired by Brahem's creation. I have already listened to it; it will be a very nice surprise. It is the event of the year for me, I have waited for many years to listen to Anouar Brahem live but I have not been able to do
it until now and as I missed the concerts in Sofia and Budapest, there is some selfishness in my desire, because I am very happy to have the chance to finally listen to Anouar Brahem here in Romania.»
Andreea Chiselev
Translated by Florina Sămulescuand Elena Daniela Radu
MTTLC, Bucharest University