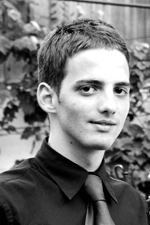 Between Refinement and Explosion with Pianist Valentin Mureșan at the Hungarian Cultural Centre Bucharest
Wednesday, 9 November 2011 , ora 10.27

The activity of the Hungarian Cultural Centre Bucharest reveals lasting attention to promoting young artists. If in spring we could see pianist Mihai Ritivoiu perform there, on Tuesday, November 8
th
, 2011, another recital by an equally talented young man was programmed. He also excelled during The Lipatti Days organized by Radio Romania Music last year and he won 2
nd
place and the Audience Award at the Hungarian Music Festival. That young man of great musical sensibility is
Valentin Mureșan
,whose apparently shy presence contrasts with the temperamental bursts which emerge once he sits in front of the keyboard.

Valentin Mureșan - Swiss clockmaker
Valentin Muresan's performance was as interesting, as it was difficult including works by Chopin and Liszt, all of which contained various technical challenges that he overcame honourably. After performing three of Chopin's Étude Op. 10, numbers 12, 3 and 10 with the refinement and elegance required by the these works, he went on to Liszt's explosive Études d'exécution transcendante, genuine tasks of piano acrobatics, which I listened to breathlessly.
After a necessary break, Valentin Mureșan returned with Chopin's Scherzo No. 2 in B-flat minor, which allowed him to express his profound understanding of the work emphasised by the colours and nuances he arranged into his interpretation with the precision of a Swiss clockmaker. Rachmaninoff's Variations on a Theme of Corelliconcluded Tuesday's programme at the Hungarian Cultural Centre.

Opinions
As you have probably realized from the tone of this chronicle, I greatly appreciated this recital. However, I have a complaint about the piano, which sounded badly and it was even out of tune. Nevertheless, Valentin Mureșan overcame these problems and gave a good performance, to the audience's liking, who declared at the end of the recital:
'I thought it was really beautiful. I'm not an expert on classical music, but Chopin is one of my favourite composers, so it was beautiful.'
'The recital was very lovely, well-organized and the one who performed the piano recital was amazing.'
Petra Gherasim
Translated by Ioana Ristulescu and Oana Marina Siliște
MTTLC, Bucharest University