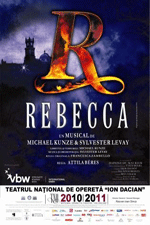 'Rebecca' fabulously opened the Festival
Wednesday, 16 November 2011 , ora 10.18

The important success secured by the new production of the musical
'Rebecca'
by Sylvester Levay (music and orchestration), staged by director
Attila Béres, art directors
Balasz Horesnyi (sets) and Rita Velich (costumes), choreographer Ákos Tihanyi, light-designers László Nagy and Ionut Dolanescu, sound technicians Tamas Ditzman and Laurentiu Stanga, conductor Tamas Bolba, choir maestro Gabriel Popescu, determined the general director Razvan Dinca and artistic director Alina Moldovan to schedule it in the opening of the fourth edition of the Festival 'La Vita è Bella'organised by the National Operetta Theatre 'Ion Dacian' between November 10
th
and 20
th
, 2011.
'Rebecca' is a spectacular super-production, making use of pyrotechnic effects, projections, excellent combined lights, the revolving stage proving to be very useful when switching between sets, in a somehow cinematographic manner (maybe with the nostalgia of the famous film from the past century...) and thus the action keeps its fluidity and emotional charge, the image rightfully conquers and impresses, everything functioning perfectly, the whole crew performing at its very best, even more intensely than on its opening night.

Flawless performance
And because during the last seasons, the cast is formed following a casting, this time is no exception and a lot of the performers are collaborators. Together with 'house' soloists, tenor Florin Budnaru, by playing Maxim, probably portrays the best character so far vocally and in acting, even if in his version, the Lord does not have much personality, but is expressive and believable, and the baritone Cătălin Petrescu stands out again because of his acting and dancing talent, the way he recites the prose and 'composes' an impeccable Jack in his defining data. Soprano Silvia Sohterus is believable as Beatrice, in a 'couple' with bass Orest Paslariu, who very much assumes his role as Giles, Valentin Tiron being an episodic Judge, and Nicolae Lupu an agreeable Frank. If in this production Andras Demeter was... Colonel, we applauded Alexandra Craescu - a charming young woman - who played the heroine (She) truly embodying a sensitive girl, shy, in love, transformed under our eyes into a strong Lady, filled with personality, but just as warm, singing with light voice, true to the part, opposing Mrs. Danvers, an almost evil character, extremely complex, but performed powerfully by Giorgiana Mototolea - a 'tough' apparition, but especially an ample, metallic, incisive voice, supported by an overflowing temperament. Anca Turcasiu embodied the extravagant Edith, and as Ben we appreciated again Matei Chioariu, and what was remarkable was everybody's capacity of maintaining a constant emotional vibration, the passion and the 'rhythm' of the action.
It is difficult to understand why the playbill only notes...two distributions, and because of that only few knew...who they were applauding.

Fully deserved open stage applauses
Again, the orchestra played 'behind the scenes', the choir performed and sang very good, the ballet dancers created spectacular moments, the coordination was without error in the melodic work, with a few motifs that repeated but were pleasant, everything was alive and full of poetry, so the open stage applauses and the enthusiastic ovations of the packed hall were, again, fully deserved by the quality of the show and especially by the performers, and also I would add by the whole technical staff, who were on demand 'every second'.
Anca Florea
Translated by Florina Sămulescu
MTTLC, Bucharest University