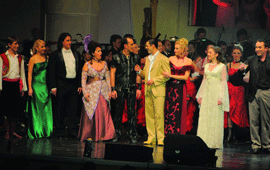 'Women's Mutiny' at the National Operetta Theatre 'Ion Dacian'
Wednesday, 16 November 2011 , ora 10.23

A colourful atmosphere, glamorous music and rhythms, with a strong Russian fragrance, exciting dances, all spiced up with a lot of humour - this is the way I would describe the event I attended on Tuesday, November 15
th
, 2011, at the National Operetta Theatre 'Ion Dacian'.

A new episode of the 'La Vita èBella' Festival
It is about a new performance in the Festival 'La Vita èBella', staged this time by the Musical Comedy Theatre of St. Petersburg under the conductor Andrei Alexeev. The audience watched a musical comedy in three acts, less known in Romania, 'Women's Mutiny' by Evgeny Ptichkin, which first premiered in St. Petersburg in 1976.
In the new staging, directed by Yuri Laptev, the action takes place in the 1920s, and its subject is the women who rebel and throw their husbands out of home, as a punishment for their drunken debaucheries. Ptichkin's music, which accompanies the action, is a soft, accessible one, exuberant sometimes, and it combines modern music with traditional Russian and Gypsy tunes. I admired yesterday evening the incredible voices of the soloists and their acting talent; I should remember Igor Eriomin, Valentina Mihailov and Yulia Moskalenko.
If I were to mention a downside of the show, it would be about the bad synchronization of the subtitles with the ongoing action, and because of that the spectators who did not understand Russian were a little confused.

Talking to Yuri Laptev about the show
At the end of the performance I talked to the director of this musical comedy, Yuri Laptev, who gave us details about the way the directing ideas of the show evolved:
'The subject is from Tales of the Don by Mikhail Sholokhov, a special and very interesting literature, especially since it is about the eternal life as a couple, about the love between a man and a woman, but also about the conflicts that might arise from it. The text is accompanied by a very good music written by Evgeny Ptichkin. The creation was subjected to some necessary transformations because it was truly pretty old and difficult to translate into our modern society. It was a very Soviet play. That is why we had to make a strategic change of the subject in order to make it more interesting. We wanted to show that everything passes; love conquers all and no matter how much the husbands argue, they cannot live without each other if they love one another. And this is something that anyone, on every continent, can understand.'

Beneficial collaboration on both sides
Yuri Laptev also talked about the Saint-Petersburg Theatre of Musical Comedy in the Festival 'La Vita èBella':
'In my opinion, our Theatre is today in at its best and I can say that it is the best operetta theatre that has not only classical operetta at a high level in its repertoire, but also musicals and modern musical comedies. That is why I believe that our collaboration with the Festival is a beneficial one for both sides - both for the Festival and our Theatre. When we step outside the borders of Russia, we perform in Russian and that prevents, to a certain extent, the public from understanding us; but when coming to Romania, where comic opera is known, as if here it was first born, we can check if certain tendencies are truly authentic, if the actor's efforts are not in vain. That is why developing the collaboration with the Festival will prove to be beneficial also for the Festival but also for the Theatre.'
Bogdan Clempuș (Radio Romania International, Russian Department) and Larisa Clempuș
Translated by Florina Sămulescu
MTTLC, Bucharest University