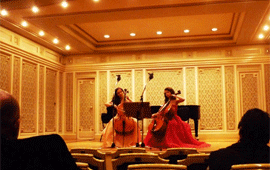 Cello Duo at the Romanian Athenaeum
Wednesday, 16 November 2011 , ora 10.30

The
Tuesday Evening Season
presented us once again with the opportunity to listen to a form of recital rarely held on a stage in Romania, played by the
Cello Jaya
Duo
at the Small Hall of the Romanian Athenaeum, on November 15
th
, 2011. The duo is made up of two young performers who are studying under the guidance of maestro Marin Cazacu at the National University of Music of Bucharest,
Ella Bokor
and
Alexandra Potângă
.
Both cellists are involved in concert activities worth praising, not just as a duo but also individually, taking part in different other chamber projects. Last night they performed two duets by Haydn and Jacques Offenbach, a very interesting work of the Italian composer Giacomo Cervetto - Divertimento Op. 4, No. 1, and in the end a work that had to be included in the repertoire of a cello duo - Sonata in G major by Jean-Baptiste Barrière.
I noticed the good coordination and the confidence shown by both cellists, despite their minimal gestures. However, the rather small number of people attending the recital casta shadow on the event, which was partially justifiable given the unusual competition posed by other concert halls in Bucharest on a Tuesday evening.
Dan Ghineraru
Translated by Raluca Mizdrea
MTTLC, Bucharest University