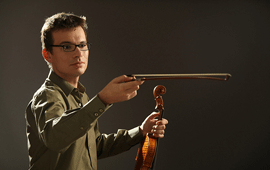 Caprices with Surprises
Sunday, 20 November 2011 , ora 9.52

What can you find inside a surprise egg? It's very simple - you can find
Caprice no. 17, Caprice no. 20 or Caprice no.1
by Niccolo Paganini. At least this is what
Alexandru Tomescu
has offered us when opening the "Young people and music" festival, on Thursday evening, November 17
th
2011, at the Act Theatre. As you can imagine, the violinist has performed Niccolo Paganini's
Caprices
. He has already convinced us that he is a super-virtuoso with super powers that can overpass any challenges. He has just returned from New Zealand and after a 20-hour flight and only a day to recover he came in front of the audience from the Act Theatre to inaugurate this series of events meant to promote young musicians.

At the highest level
I could not comment upon the performance itself as it has been of the best quality as usual. The novelty was in the presentation, as he has proven to be not just a musician but also a stage director: Alexandru Tomescu came on the stage with a glass bowl in which he has put 12 capsules, like those found in the surprise eggs containing pieces of paper with the number of the Caprices. The bowel started from a volunteer who has drawn number 21 and after the performance of this Capricethe bowl reached to the 21stperson who made the next draw. And so, Alexandru performed 12 Caprices, closing obviously with Caprice no. 24. It was remarkable how he adapted his inner state for the performance of every randomly chosen Caprice. After a year of performing them almost completely, we might think that their order has created some kind of sense, that their sequence was based on their own logic. Although played randomly they still make a lot of sense, helped also by the great sonority of Alexandru Tomescu's Stradivarius violin.

The final test
At the end Alexandru performed a Bach play as well, as a favour for somebody in the public. I must confess that this was a truly difficult test - Bach after Paganini … I have no further comments, this combination speaks for itself.
At the end - yet another surprise! Among the surprise eggs there were 3 differently coloured - Alexandru's favourite Caprices. Those who picked these ones from the bowl received a preview CD called Paganini 24/24, which will be officially released on December 2nd, on a break during Alexandru Tomescu's performance at the Radio Hall.
Petra Gherasim
Translated by Oana Marina Siliște
MTTLC, Bucharest University