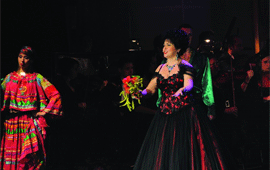 Kiev Operetta Theatre in 'Ball im Savoy' (Ball at the Savoy)
Monday, 21 November 2011 , ora 12.25

For the third consecutive year, the Kiev Academic Operetta Theatre was present at the Festival
La Vita
è
Bella.
The Ukrainian establishment was inaugurated in 1934 with the premiere of the show "Die Fledermaus" (The Bat) by Johann Strauss. During the war, the Theatre was evacuated in Kazakhstan, and for two seasons presented its shows in the city of Almaty, strengthening the cultural connections between Ukraine and Kazakhstan. Its current repertoire includes creations by Johann Strauss, Emmerich Kálmán, Jacques Offenbach and musicals.

Once again in ... 'La Vita è Bella'
Saturday, November 19th, 2011, the artists of the theatre performed for the audience"Ball im Savoy" by Paul Abraham (Pál Ábrahám), operetta which was performed in Ukrainian. It was directed by Bogdan Strutynsky, the Artistic Director of the Kiev Theatre, with Serghei Golubnichy as the conductor. The audience, which filled the hall to maximum capacity in the Theatre "Ion Dacian", applauded the superb costumes of the artists, the smooth direction and the choreography, the acting, qualities that compensated somewhat for the fairly modest voices of the soloists. The evening ended in the foyer of the theatre with Ukrainian folk music, also played by the singers from Kiev Operetta Theatre.

With a final impression, the director Bogdan Strutynsky:
"First of all we are grateful to the organizers of the Festival, the 'Ion Dacian' Theatre, for extending us this third invitation. In this current edition we had a consistent presence in the festival, with this famous operetta, 'Ball im Savoy' by Paul Abraham, then again with the traditional Ukrainian evening, but also with the International Operetta and Musical Gala from November 12th, which I happily directed together with Mr. Razvan Dinca. I am very impressed by this festival, which seems to expand, encompassing not only operetta, but a whole musical world, which involves jazz, choral and traditional music concerts; so much so that the events gained notoriety across the world.
As far as we are concerned, I am pleasantly surprised by the enthusiasm with which the audience received us here. This speaks about the way the music and choreography, as well as the warmth and the professionalism of the artists, can knock down cultural barriers between people, so they can communicate spiritually."
Larisa Clempuº
Translated by Florina Sãmulescu and Miruna Iacob
MTTLC, Bucharest University