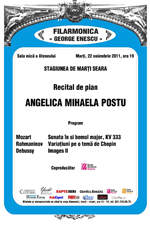 Tuesday Evening Season
Wednesday, 23 November 2011 , ora 12.31

A new episode of the 'Tuesday evening season' was performed on November 22nd, 2011, at the Small Hall of the Romanian Athenaeum. The protagonist was the young pianist Angelica Mihaela Postu - who recently graduated from the National University of Music Bucharest, Department of Keyboard Instruments (piano) and an exchange student of the Universität der Künste Berlin, UdK (Berlin University of the Arts).
Angelica Mihaela Postu is, for some time now, already teaching piano at two major high schools in Bucharest - 'Iosif Sava' School of Music and Fine Arts and 'George Enescu' Music High School and has also appeared in recitals in important cultural centres in Romania, as well as in Germany and Poland. 'Maryse Chéilan' in France, 'Piano Pro' in Bucharest, 'Sigismund Toduta' in Deva and 'Mozart' in Targoviste are some of the competitions where she was awarded.
The playbill that the young pianist proposed was shorter than the one initially announced. The first piece was 'Sonata opus postum 143 in A minor' by Franz Schubert - played in a balanced style, which proved a well understanding of the play, but which was shaded by the precarious technical execution of the virtuoso passage. It was followed by the Saraband in 'Piano Suite No. 2 in D major' by Geroge Enescu - a colourful page in which I have noticed the same coordinates, and in closing, 'Variations on a Theme of Chopin' by Sergei Rachmaninoff - a well known and well delivered composition, which managed to bring a lot of applauses from a numerous audience.
Dan Ghineraru
Translated by Florina Sămulescu
MTTLC, Bucharest University