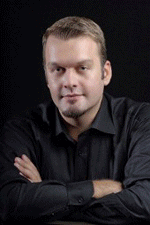 Romanian Debuts in 'Tannhäuser'in Viena: Sorin Coliban and Ileana Tonca
Tuesday, 22 November 2011 , ora 10.13

In the solid cast of the new Tannhäuserof the Vienna State Opera, we applaud two Romanian debuts: Sorin Coliban (Hermann) and Ileana Tonca (The Shepherd). Alexandru Moisiuc was Biterolf, without being a debut. We saw them last night in the ninth performance of director Claus Guth's production (the premiere had been in June 2010, being the last one under director Ioan Holender).

Ileana Tonca - a career on the rise
From here on I will talk aboutthe performers who had their debut. They both surpassed expectations. Ileana Tonca was applauded after a brief solo without the orchestra's accompany. It is an episode in the first act, a moment of supreme concentration, in which the performer is singing alone on stage, and is supposed to catch the public's attention solely with the volutes of her voice. We were able to enjoy the clear voice and controlled diction of Ileana Tonca. The boyish figure and adolescent delicacy helped her get into the shepherd's 'skin' - Tonca is, in other words, looking at a career on the rise.

Sorin Coliban - takes the leap towards a main role
Likewise, Sorin Coliban, a bass-baritone that performed many small roles so far at the Vienna State Opera, proved that he is the master of a full voice and of a clean technique and that he has reached a level of vocal performance to be valued on the important stages of musical theatre. I have heard him in October in a recital at the Vienna State Opera, where he performed arias and other works from Händel to Donizetti and Berg. I must mention the fact that they were warmly applauded, something that never happens when there is even the slightest fissure in the vocal interpretation.
There is something else that brings Sorin Coliban into the spotlight: an expressive mimic, maybe sometimes exaggerated, but one that always accompanies his voice and draws the public's attention, especially when there is frontal contact. Having been thoroughly prepared and having had plenty of experience on the Vienna State Opera stage, Sorin Coliban now takes the leap towards main roles, in heavy works such as those signed by Wagner and Janacek (In December, Vienna's public will have the chance to see him perform a main role in From the House of the Deadby the Moravian composer). He will, therefore, without a doubt, be an artist of which we will hear a lot in the future.
Haiganuș Preda-Schimek
Translated by Laura Bosnea and Mihaela Dănăcică
MTTLC, Bucharest University