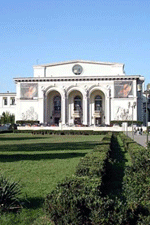 The Arts of the Musical Show, Where to? - Conference at the Bucharest National Opera
Friday, 25 November 2011 , ora 10.19

On Tuesday, November 22
nd
, 2011, in the Yellow Hall of the Opera House, along with other spectators - about 30, in total, among which a few fellow colleagues - I saw through a conversation that lasted for approximately two hours, carried out in a colloquial tone and pertaining to a rather improvisatory nature, than one afore elaborated. Its moderator and catalyst was Ioan Holender, who knows just how to polarize attention, by means of his authoritative position and experience gained in the international music life, with pertinent observations, often subjective, made in his renowned phlegmatic-acid tone. His dialogue partners were Catalin Ionescu Arbore - the director of the Bucharest opera, the soprano and canto teacher Georgeta Stoleriu, tenor Cornel Stavru, soprano Irina Iordachescu and music critic Costin Popa.

Matters tackled?
A wilderness. From the number of the premieres, the titles of the season and the shows of the week to the number of employees, types of contracts and salaries at the opera. From the lack of planning of the long-term casts and its reasons to its multiple consequences, from the problems related to professional probity and misunderstood democracy to the quality of the shows, from subventions and sponsorships to the hierarchy of the director, conductor and stage director when planning a new show etc.

The opera - a viable genre?
A lot of questions were asked; a lot of answers were given - more or less convincing - without the intention or real hope of finding a solution to the problems raised. All they could figure out was that there were no solutions without proper funding and a clear, coherent and fair legislation in the artistic field. As for the so-called conferences' title: The arts of the musical show, where to? It was brought into discussion in a side glance by someone, as a discussion topic and immediately caught by Mr. Holender, who expressed his belief that the opera is and will remain a viable genre.
After having nostalgically reminisced of the glorious times of our very first lyric scene, the same Ioan Holender abruptly gave up his instigator's role for the conciliatory one, stating in the end: 'Not all that was was good, and not all there is is bad.' Dixi!
Ligia Ardelean
Translated by Laura Bosnea and Elena Daniela Radu
MTTLC, Bucharest University