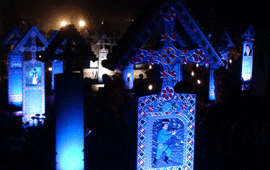 'Voices from the Merry Cemetery' at the Romanian Athenaeum
Wednesday, 30 November 2011 , ora 9.46

The spirit of the Merry Cemetery of Sapanta stopped Tuesday evening, November 29
th
, 2011, on the stage of the Romanian Athenaeum, courtesy of a vocal-symphonic composition of the Irish composer Shaun Davey.
'Voices from the Merry Cemetery'
is a unique composition, in which the influences of the Romanian folklore harmoniously intertwine with the specific sounds of the Irish music. Although it was only performed two times in Romania, on Tuesday night, it was interpreted for the first time in Bucharest by the Romanian Youth Orchestra conducted by David Brophy, together with the Male Choir of the Faculty of Theology St. Andrei Saguna in Sibiu.
This is what Shaun Davey had to say about the initiative of this project and about his collaboration with artists from Romania:
'I have seen at some point a book with illustrations and poems from the Merry Cemetery at the Embassy of Romania in Dublin and I thought that this concept, organized by Stan Ioan Patras and continued by his successor Dumitru Pop, is extraordinary and I wanted to contribute to their accomplishments by writing a music fit for these traditions. Also, I thought that the poems written by the families from Sapanta were ideal sources of inspiration to compose songs after.
As far as my collaboration with Romanian artists, I can say that when there are persons who decide to participate, only good things can came of it, high quality projects. It is the same with the Male Choir from Sibiu who accepted my invitation. I once visited Sibiu and listened to a few wonderful songs in the Orthodox Cathedral, and as soon as I returned to Dublin I wrote to conductor Sorin Dobre and proposed collaboration. I have asked him if the ensemble he is conducting would wish to perform one of my pieces. He said yes and this is how the foundations of this project came into being.'
The second part of the concert held at the Romanian Athenaeum was comprised of Christmas Songs by Shaun Davey, performed by the Romanian Youth Orchestra and the Male Choir of the Faculty of Theology Saint Andrei Saguna in Sibiu, and they were joined by the Timotei Popovici Choir of the Metropolitan Cathedral in Sibiu.
Janina Bădici
Translated by Florina Sămulescu and Miruna Iacob
MTTLC, Bucharest University