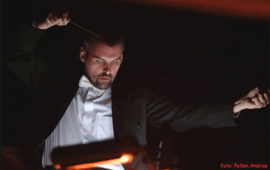 Antique Violins Seasons
Friday, 2 December 2011 , ora 12.26

Wednesday evening, November 30th, 2011, brought on the stage of the 'Mihail Jora' Concert Hall a new event from the festival 'Antique Violins Seasons at the Radio Concert Hall'. This time, violinist Stefan Horvath was accompanied by the Radio Chamber Orchestra, conducted by Jozsef Horvath.

A blend of compositional styles
The first piece on the playbill was 'Divertimenti for strings' by Leo Weiner, a type of music which is deeply rooted in folklore. Maybe the most anticipated piece of the evening was 'The Seasons' concert cycle by Antonio Vivaldi. A composition that is easily recognizable by almost anyone, this cycle represented an opportunity for Stefan Horvath to show his interpretative skills which relate to the Baroque creation and bring to life Vivaldi's composition.
In the second part of the concert we listened to 'Symphony No. 5' in B-flat major by Franz Schubert. The interpretation was a truthful one, and it managed to emphasise the musical intentions of the author. From the blending of compositional styles to their mode of interpretation, the word that will best suit this concert is 'equilibrium'. The artists did not make any excesses and have permanently maintained a correct attitude towards the historical times in which those pieces were composed.

A good collaboration
After the concert I talked to the conductor Jozsef Horvath, and this is what he had to say:
'As far as the making up the playbill is concerned, we knew that the piece that we had to perform was 'The Seasons' by Vivaldi, because it is this festival of violins and to these pieces by Vivaldi I have tried to find something contrasting. And this is how the idea to play 'Divertimenti' by Leo Weiner came up, who is a contemporary composer of Bartok, but very little performed in our area. I think it is a good opening piece for this type of chamber concert and, of course, afterwards we chose a symphony that reflects Classicism (?!), so that all sides of the orchestra can be shown, seen and heard.
Our collaboration with the Radio Chamber Orchestra was a very good one, it is not the first time I have been here, I have been here before, and they have enjoyed this piece by Leo Weiner, which was unfamiliar to them until now. I also worked very well with soloist Stefan Horvath, who was also a classmate in the past. This is the first time I performed with him, it was a very good collaboration and I hope it will happen again.'
Radu Mihalache
Translated by Florina Sămulescu
MTTLC, Bucharest University