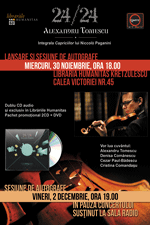 A New Encounter with Violinist Alexandru Tomescu
Monday, 28 November 2011 , ora 12.37

On Wednesday, November 30th, at 6 p.m., at the Humanitas Kretzulescu bookstore (no.45, Calea Victoriei Bvd.), there will take place the release event of the entire album of Caprices by Niccolo Paganini in double format with audio CD. As a premiere, the public will be presented with a limited edition of these works - double audio CD + DVD - edition available only in the Humanitas bookstores. Together with Alexandru Tomescu, Denisa Comănescu, editorial manager of Humanitas Fiction, writer and journalist Cezar Paul-Bădescu as well as Cristina Comandașu, head deputy editor at Radio România Muzical will be at the event.

An extraordinary mix of ingredients
The year 2011 has been under the sign of Niccolo Paganini for violonist Alexandru Tomescu. The tour he coordinated between May 5th and 29th, 2011, in 15 cities of Romania, was framed after the following recipe: the mind-boggling talent of the charismatic violinist, the unique sounds of a Stradivarius from 1702, a programme which would give the thrills to any outstanding violinist - the entire set of Caprices by Niccolo Paganini - and 24 video projections, which the public was able to follow concomitantly with the live performance offered by Alexandru Tomescu. The reaction of the public to this combination of ingredients was extraordinary: sold-out tickets in 15 cities, hundreds of tickets for standees, recitals performed twice at Iași and Bucharest on audience request.

Music - the essence of the project
The echos of this effervescent manifesto then externalized in a DVD starter, in September, in the George Enescu Festival Square. It was an event at which over three thousand scaffolders took part in, an authentic record for marketing a classical music product, at least in Romania. Alexandru Tomescu. 24 in and out - the video package of the 24 Caprices by Paganini had a resounding success, similar to the tour, the first draught being depleted in less than a month.
But since the essence of this project was and remains music; Alexandru Tomescu now also launches on the market a double CD, which comprises the entire set of the famous Caprices by Niccolo Paganini. The quality of this CD is impeccable, whereas the registrations were recorded in the George Enescu Hall of the National Music University in Bucharest under the guidance of sound engineer Jakob Haendel, a Grammy award holder. Alexandru Tomescu sung the entire set of Caprices by Niccolo Paganini on the Stradivarius Elder-Voicu violin from 1702, pertaining to the National Estate of Romania.
Raluca Petre MTTLC, Bucharest University