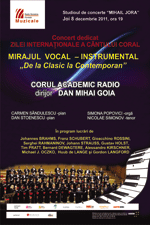 The vocal-instrumental mirage - Academic Radio Choir's concert
Wednesday, 7 December 2011 , ora 10.14

The Academic Radio Choir and conductor Dan Mihai Goia invite you to the Romanian Radio Hall on Thursday, December 8th, 2011, at 19.00, for a concert with romantic music, waltz and carols from the universal repertoire. We will discover the Vocal-instrumental mirage along a sonorous journey from Classic to Contemporary, where the choral ensemble will have as guests the tenor Nicolae Simonov, the pianists Carmen Săndulescu and Dan Stoenescu and the organist Simona Popovici. A group of instrumental percussionists will also take part at the concert.
Listed on the bill are choral works accompanied by organ, by piano, by two pianos, by a piano for four hands and percussion, all composed by Johann Strauss, Tim Pratt, Gustav Holst, Alessandro Kirschner, Bernard Dewagtere, Michael J. Oczko or Huub de Lange.
The concert is dedicated to The International Day of Choral Singing, an event which is organised by the International Federation for Choral Music, which took place for the first time worldwide in 1991, and in Romania in 2000.
The tickets can be bought through Eventim, from the ticket office of the Romanian Radio Hall, from Germanos or Vodafone stores, from the Cărturești or Humanitas bookstores and online on www.eventim.ro.

The Academic Radio Choir
Created to sustain the vocal-symphonic repertoire, the Academic Radio Choir covered the way of artistic maturation, improving and permanently enlarging its horizons, assimilating new scores, thus now having in their repertoire a great number of works: orators, cantata, madrigal, poems, minstrelsy and numerous miniatures.
The Romanian Academic Radio Choir was founded in 1940, under the baton of conductor and composer Ion Croitoru. The choir performs public concerts and recordings based on great vocal symphonic works of the universal repertoire alongside orchestras, as well as a rich repertoire of a cappella pieces. Also preoccupied with the promoting national creations, the ensemble presents in first audition works by Romanian contemporary composers, many of them having been dedicated to the choir itself.

Dan Mihai Goia...
... has been the conductor of The Academic Radio Choir since 2000. With this choral ensemble which critics have given a reference standard, Dan Mihai Goia has participated in over 200 vocal-symphonic and a cappella concerts. Many of his appearances as a conductor and many of his recordings made for the Radio library included works by Romanian composers - from the classic repertoire, to the contemporary one - but also works from the universal choral repertoire. In 2009, Dan Mihai Goia has been awarded the Prize for choral conducting of The Romanian Union of Composers and Musicians for his entire activity. 2010 marked an imposing achievement for the conductor Dan Mihai Goia, namely the release of the CD Vecernii, opus No.37 by Serghei Rahmaninov, for which he has collaborated with the soloists Gabriela Popescu and Călin Brătescu together with The Academic Radio Choir and the 'Te Deum Laudamus' Men's Choir.

Translated by Elena Enache and Mihaela Melneciuc
MTTLC, Bucharest University