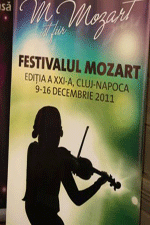 The Mozart Festival in Cluj Napoca Ongoing
Monday, 12 December 2011 , ora 10.55

The Romanian Mozart Association in Cluj, established by the late Professor Laszlo Francisc, has resumed - within the ongoing festival - the Mozart Contest, which had been interrupted for two years. Trios for violin, cello and piano had been set for this year's programme, but unfortunately only five ensembles participated, three of which have been awarded on Sunday evening (December 11th, 2011), when the second and last stage of the competition took place. The 3rd prize was awarded to trios Radu Dunca (violin), Fabian Andras-Attila (cello), Mihai Diaconescu (piano) and Dariu Cifor (violin), Andras Vilehelm (cello), Rebeca Dragomir (piano), while the 2nd prize went to trio Francesco Ionascu (violin), Horatiu Ludusan (cello) and Luca Pulbere (piano). The 1st prize was not awarded. Head of the Jury was Ladislau Horvath - celloist and conductor, a native of Cluj, now residing in Italy. Also part of the Jury were Professor Dr. Adrian Pop, rector of the Music Academy and Adriana Bera, President of the Romanian Mozart Association.
The Mozart Festival is entirely dedicated to the young audience. As Laszlo Francisc would so candidly refer to it, this is a Mozart Juvenorum. Many young people from China, Germany and Japan were present, very talented people, yet not well known names of the music world. Joining them in majority were, of course, the students of Cluj; part of the programme were three orchestra concerts, closing with a most entertaining concert performance by the students of Cluj - conducted by Mihail Agafita.
The Mozart Festival is by all means a success, Mozart is greatly cherished in Cluj as well!
Ecaterina Stan
Translated by Alina Popa MTTLC, Bucharest University