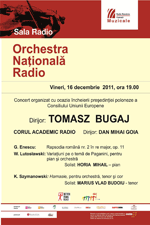 Extraordinary Concert Dedicated to Poland - at the Radio Hall
Wednesday, 21 December 2011 , ora 9.25

On Friday, December 16th, an event marking the end of the Polish Presidency of the EU Council took place at the studio of "Mihail Jora" Romanian Broadcasting Society.
Along with the Radio Orchestra and the Radio Academic Choir there was the conductor Tomasz Bugaj, and the soloists of the evening were the pianist Horia Mihail and the tenor Marius Vlad Budoiu. On the playbill: The Romanian Rhapsody No. 2, in D major, Op. 2 by George Enescu, Variations by Witold Lutoslawski on a theme of Paganini for piano and orchestra and Harnasie - for orchestra, tenor and choir by Karol Szymanowski.

His Excellency, Mr. Marek Szczygielk, Polish Ambassador to Romania, commented on the event:
"First of all, I would like to thank the Radio Romania institution for co-organizing this concert. We tried to bring together all partners with whom we worked during our Presidency and we wanted to organize an event to express our gratitude, we also wanted to propose some of the most representative works of the twentieth century Polish music, which are quite difficult works. Composers such as Lutoslawski and Szymanowski deserve to be promoted more abroad; so that we emphasized the cultural aspect now, at the end of our presidency, for popularizing Polish contemporary music. "

Maja Wawrzyk, Director of the Polish Institute in Bucharest, also attended the concert:
"We started preparing a year ago and we thought that a concert is the appropriate occasion to gather up all our friends and to combine both Romanian and Polish elements in an event. That is why I chose this celebration form for the end of our Presidency and I am very happy because tonight we could meet our friends and partners here, at the Radio Hall.
I think that was an amazing concert, firstly because Polish and Romanian artists worked together. It was very nice to hear singing in Polish, so we are very pleased. "

The soloists of the evening, tenor Marius Vlad Budoiu and pianist Horia Mihail, talked about the collaboration with the conductor Tomasz Bugaj.
Marius Vlad Budoiu: I think that he is one of the best conductors I've ever worked with. It is an energetic man, full of a wave of knowledge and demands he does express, but not freely. Whenever I work with a man of value, I try to learn from him. I liked watching him, seeing what he was doing and I was completely impressed.
Horia Mihail: The Polish conductor Tomasz Bugaj is certainly one of the Polish emblems of the current performing art. It was a very good collaboration. He is a very pleasant person both on stage and beyond. I am very pleased that this collaboration between the Radio bands and the Polish Institute also included this song of Lutoslawski, which I sang accompanied by the National Radio Orchestra and which was, as far as I know, a national premiere.

The conductor Horia Andreescu also gave us some impressions about the concert, at the end of it:
"Very interesting, excellently done! I listened to two works that were not usually played in Bucharest and it is good that he thought of this programme. It is fine that maestro Bugaj was able to instill in the orchestra and choir the understanding of the music he conducted. I am sure this concert will trigger further thinking on this line, on knowing closely more special and more interesting music. It's a real chance to start a welcoming dialogue. "
Radu Mihalache
Translated by Gabriela Moateru and Elena Daniela Radu
MTTLC, Bucharest University