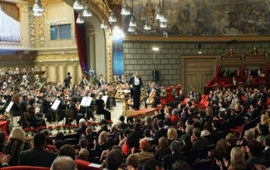 Love Stories at the Athenaeum
Monday, 19 December 2011 , ora 9.31

December is the month in which we are thinking of our loved ones more than ever perhaps, and with the purpose of meeting us halfway, those from Latino Communication organized Saturday, December 17th, a special event. Under the name December Music Flavours and under the subtitle Love stories, the concert had as protagonists the musicians from Romanian Youth Orchestra, conducted by the conductor Cristian Mandeal. Having a full programme, the evening revealed since the begining the signs of a succesful one.
Then it came the turn of soprano Mirela Zafiri to step into the spotlight and to offer to the audience, together with Romanian Youth Orchestra, the arias E strano from the opera La Traviata by Giuseppe Verdi and Je veux vivre from Romeo and Juliet by Charles Gounod. The first part of the concerto was closed with the overture to the opera Ruslan and Ludmila by Mikhail Ivanovich Glinka.
The second half of the concerto repertoire proposed the symphonic suite Scheherazade by Nikolai Rimsky-Korsakov. In this variant, the soloist parts were performed by the violinist Ana Török.
Programme according to the evening's theme
The first musical piece on the playbill was the overture to the opera La Forza del Destino by Giuseppe Verdi. It was followed immediately by Fantasie Brillante for flute and orchestra, an interesting interpretation of the main themes from the famous opera Carmen by Georges Bizet, which had Seyia Ueno from Japan as soloist on flute. After that we listened to The Love Duet from the ballet Spartacus by Manuel de Falla, two balanced works which successfully integrated in the evening's theme.

The success of the concerto...
... was confirmed by the audience's reaction, to whom the artists offered another three works as encore. We are talking about Waltz No 2 from the Jazz Suite of Dmitri Shostakovich, the Prelude of the opera Carmen by Georges Bizet and 'the traditional', as it was called by the conductor Cristian Mandeal Radetzky March by Johann Strauss.
These put an end to a pleasant evening spend in the company of The Romanian Youth Orchestra.
Radu Mihalache
Translated by Iulia Grosu and Elena Daniela Radu
MTTLC Bucharest University