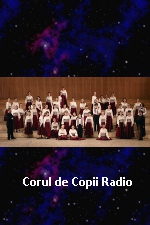 Children's Carols at Mihail Jora Concert Hall
Monday, 12 December 2011 , ora 11.52

How are the little ones waiting for Santa Clause? With an open heart, anxious and full of joy. These are the feelings that the
Radio Romania Children's Choir
conveyed to the audience during the concert on Sunday evening, December 11
th
, 2011, at 'Mihail Jora' Concert Hall at Radio Romania headquarters. In an emotional atmosphere, filled with innocence, Diana Sava, a member of the preparatory class of the Radio Romania Children's Choir, sang the famous
'Jingle Bells'
, showing that even a six-year old musician can be an emissary of Santa Clause.
'Children's Rituals and Habits' - this was the name of the event which coincided with the International Day of Choral Singing.

A rainbow of carols and Christmas songs
Having been structured in two parts, the playbill proposed by the group conducted by Voicu Popescu, included both Romanian carols, among others the well-known 'La Vitleem, colo-n jos' (Down in Bethlehem) and 'Colindita' (Carolling), and carols and Christmas songs from Greece, France and even an Ukrainian hymn. During the second part of the concert performed by the Radio Romania Children's Choir, members of the Romanian Radio Brass Quintet were also invited on stage. The Brass Quintet brings together musicians from the Radio Romania bands, and for this concert soprano Cecilia Bucerzan joined them in performing a piece from the 'Samson' oratorio by Georg Friedrich Händel.

Bells, hands clapping and children's crystalline voices
...these were the ways in which Radio Romania Children's Choir conveyed, from the bottom of their hearts, their message. Simple and without any dissonance in singing the a capella songs or with an overwhelming joy during those three moments from the series 'A Ceremony of Carols' by Benjamin Britten, in which the imitations in canon were accompanied by pianist Camelia Chitibea.
How are the little ones waiting for Santa Clause? The same way adults are. With an open heart, anxious and full of joy.
Alexandra Cebuc
Translated by Florina Sămulescu, Mihaela Dănăcică and Mihaela Melneciuc
MTTLC, Bucharest University