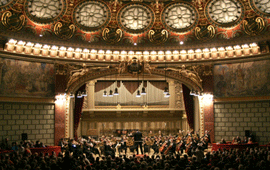 Christian Badea conducting the 'George Enescu' Philharmonic Symphony Orchestra
Friday, 9 December 2011 , ora 11.56

On Thursday, December 8th, 2011, a new concert was held at the Romanian Athenaeum by the 'George Enescu' Philharmonic Symphony Orchestra. This time the conductor was Christian Badea and soloist was pianist Alon Goldstein.
The playbill proposed an incursion into the sound universe of the 20th and 21st century. The first piece on the bill was 'Saramandji' by Cornel Taranu, a work performed for the first time in Bucharest. The concert continued with 'Piano Concerto No. 3 in C minor' by Sergei Prokofiev, a perfect moment to listen to Alon Goldstein's mastery of the piano. Towards the end of the concert, after the break, we enjoyed a show of force when 'Symphony No. 5 in D minor' by Dmitri Shostakovich was performed. All the elements presented succeeded in capturing the image of a well performed concert.
In the end, we talked to composer Cornel Taranu.

Tonight we have listened, in first audition at the Athenaeum, to a work composed by you. What can you tell us about it?
'It was written in 2008. In 2009 it was performed at the Modern Cluj Festival, so it was performed for the first time in Bucharest. The title comes from Sanskrit and it means 'to be together', it is dedicated to my wife, Dana. There are cycles of free variations, including a tempo rubato with a small gypsy nuance, but in a context in which the music is totally different, so it is not folklore. The work is difficult enough and the orchestra, even though it only had three rehearsals, was very convincing and tomorrow will probably be even more so. It is a type music that is difficult to assimilate, but they are high quality musicians.'

How would you describe your collaboration with conductor Christian Badea?
'It was an excellent one. Maestro Badea was a true professional, who knows how to work in even shorter periods of time. He knows how to get results from the orchestra and I believe having such substantial collaborations with this international renowned conductor is an asset to the Bucharest Philharmonic.'
Radu Mihalache
Translated by Florina Sămulescu, Mihaela Dănăcică and Mihaela Melneciuc
MTTLC, Bucharest University