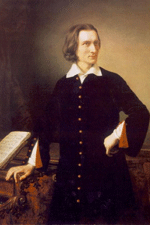 Tribute paid to Franz Liszt at the Hungarian Cultural Centre Bucharest
Tuesday, 13 December 2011 , ora 10.12

A special event celebrating Franz Liszt's birthday 200 years ago took place at the Hungarian Cultural Centre Bucharest on Monday, December 12th. The hosts of the soirée were Bretter Zoltán, the director of the center, the TV producer Simonffy Katalin and the historian Adrian Majaru. The artists playing at this recital were the pianists Csiky Boldizsár, Viniciu Moroianu, Dolores Chelariu and the violinist Csendes László.. Every musician tried to offer the audience a bit of the essence that lies in Liszt's music by playing only works from the great composer's repertoire.

Exclusive Liszt repertoire
The program opened with Valleé d`Obermann played by Csiky Boldizsár on piano, followed by Romance Oublieé and La lugubre gondola played by László Csendes on viola and Dolores Chelariu on piano. At the end of the first part, the pianist Vinciu Moroianu interpreted Eglogue from Anii de pelerinaj and Les jeaux d'eaux a la villa d'est. In the recital's break we could watch a documentary produced by Simonffy Katalin about Liszt's stay in Bucharest in 1846 . In the second part we listened to Canzone and Tarantella played by Csiky Boldizsár and to Die drei Zigeuner played by Csendes László and Dolores Chelariu.

The importance of the great composer
The concert ended with Rapsodiile nr. 3 and nr. 20 played by Viniciu Moroianu who later acknowledged Liszt's importance:
'He is an extremely important composer both for the history of the musical world, as well as for piano players, in the sense that his piano scores marked a revolution in the way the piano was played- concerning colour, symphony- raising the deepest and most diverse feelings on the entire bank of keys. A music that flows naturally over the position of the keyboard and, in the same time, a vast pianistic heritage. We're talking about hundreds of hours of music.Today, Two hundred years after his birth , his works are rarely played and we know little about his creation, his transcriptions, which, back in his time, were considered a cultural mass-media.
In one word, he is a composer that profoundly marked me, a composer to whom I feel closedue to the sincerity of his feelings, due to the lush harmonics and the inspired music, with a soulful alchemy which is close to my heart. '
Radu Mihalache
Translated by Bîrsan Vlad and Feher Izabella
MTTLC, Bucharest University