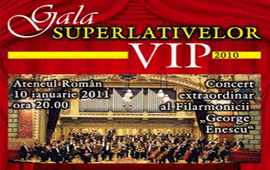 VIP Superlatives Gala at the Romanian Athenaeum
Tuesday, 11 January 2011 , ora 11.51

On Monday, January 10th, the Romanian Athenaeum hosted the 10th edition of the traditional VIP Superlatives Gala. This gala aims at awarding the most influential people of the former year, in fields such as art, culture, science or sports. The VIP Superlatives Gala has a charitable purpose as well, which this year involved supporting the Romanian education system. The campaign Together, for a better Romania is meant to help a rural school receive instructional and teaching materials. Out of all suggestions, the Jijila School in the Tulcea County, whose choir carolled in the opening of the event, was selected.
The winners of the awards handed by the VIP Magazine were, among others, Dan C. Mihăilescu (Culture category), Tudor Gheorghe (Popular Art category), Alexandru Arșinel (Excelence category), Vasile Astărăstoaie (Science and Life category), Shakespeare International Festival organized by the National Theatre in Craiova (Theatre category) or the film The Autobiography of Nicolae Ceausescu, written and directed by Andrei Ujică (Film category).
In the Music category, 24-year-old countertenor Vladimir Catană, who graduated from the National University of Music in Bucharest and studied with PhD professor Silvia Voinea, won the Special Award.
In the second part of the evening, the audience could listened to the concert entitled Classical music holliday, played by the George Enescu Philharmonic Orchestra, under the baton of Adrian Petrescu. The programme was both accessible and attractive for the audience as it contained works such as theRuslan and Lyudmila Overture by Glinka, La forza del destino by Verdi, fragments from The Nutcracker Suite by Tchaikovsky, Chanson du toreador from Carmen, Polka rápida by Johann Strauss and the Romanian rhapsody No. 1 in A major by George Enescu.
The applauses of the audience were rewarded by two encores of the orchestra: the finale of the Wilhelm Tell Overture by Rossini and the famous Radetzky March by Johann Strauss, which gave the evening's end an elegant Viennese touch.
Andreea Chiselev
Translated by Raluca Mizdrea and Andreea Velicu
MA Students, MTTLC, Bucharest University