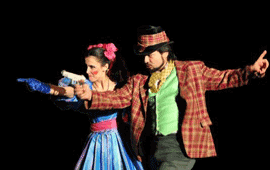 The Children Comic Opera tournament in Dubai
Wednesday, 12 January 2011 , ora 11.56

Present for the first time in Dubai, The Children Comic Opera in Bucharest, recorded a premiere on Monday, January 10
th
2011, becoming the very first Romanian ensemble to perform a show in the desert. To be more specific, in a safari camp in the Arabian Desert Nashua, as it is called by the locals, with an audience made up of tourists from all over the world, participants in one of the most unusual tours ever organized in Dubai.
Here, in the Emirate where everything is measured in superlatives - the world`s highest building, the largest mall and, in the future, it seems, the world`s largest airport - The Dubai International Festival is taking place in this period, and has as guest of honour the Children Comic Opera from Bucharest, directed by Smaranda Oțeanu Bunea.
The show Romania, amazing country!, one of the main strengths of the ensemble`s tournaments, brings to the public Roberta Enișor and Bogdan Șerban, the smallest stars in the group, and the corps de ballet, whose repertoire combines Romanian traditional dances with salsa, tango or pop-dance in a dynamic, homogeneous and also colourful stage performance.
The show last night, held in the area especially arranged for traditional dance in the safari camp Zamora, presented by an artist of Dubai, was also attended by General Consul of Romania in the United Arab Emirates, Mr. Gabriel Aldea, who, visibly impressed by the quality of the show and the reaction of the audience, which, during more than an hour embraced the atmosphere created by the Children Comic Opera ensemble, renewed the invitation to participate in the future editions of the festival; a production for Romanian residents in this impressive place in the Middle East is already being prepared.
Liliana Staicu
Translated by Manuela Stancu and Andreea Velicu
MTTLC student, 1st year, Group 4