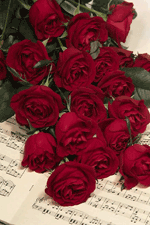 Marta Paladi Anniversary Concert
Friday, 14 January 2011 , ora 8.36

Marta Paladi is one of the most representative piano teachers in the pre-university education system. She has been teaching for more than 55 years and some of her pupils have become famous pianists, many of them also having brilliant careers as teachers. People like Marta Paladi are hard to find: she is endowed with a teaching insight which deserves only superlatives, she obtains constant results, and she has the gift of bringing out the best in all those she tutors. She is hopelessly trapped in the sweet condition of the real intellectual - a species on the brink of extinction and thus, all the more valuable.
On January 11th, 2011, in the evening, at the Romanian Athenaeum, Mrs. Marta Paladi celebrated her anniversary, as she reached an important age, which she embraces with elegance and spiritual youth.
The ones who planned this festival of gratitude and appreciation were not only the family (Ani Paladi, her daughter-in-law, cello teacher and headmaster of 'Iosif Sava' music school in Bucharest; Alexandra Paladi, her niece, who is a violinist; maestro Radu Paladi, her husband, one of the most remarkable composers of the contemporary Romanian School of music), but also pupils from different classes: Viniciu Moroianu, Valentina Sandu-Dediu, Alexandra Brucher, Mihai Măniceanu. The extraordinary young violinist Andrei Ioniță, one of Ana Paladi's pupils, to whom the Paladi family are very attached, as well as the 'Danielescu' choir from Ploiești, conducted by Valentin Gruescu, also stepped on the stage of the Athenaeum.
The programme was thought out according to Mrs. Marta Paladi's musical preferences. She has a strong penchant for Constantin Silvestri, Franz Schubert, Robert Schumann, Johannes Brahms, Orlando di Lasso and, of course, Radu Paladi - a preference also motivated by the musicology treaties he authored throughout the years.
The marvelous Athenaeum hall was filled with Marta Paladi's friends, who duly gave her flowers and rounds of applause. Above all these, Mrs. Marta Paladi received the very rare flower of gratitude! The evening dedicated to her brought blissful tears to her eyes and to our eyes as well.
Happy birthday and good health, dear Mrs. Marta Paladi!
Ecaterina Stan
Translated by Ruxandra Câmpeanu and Elena Daniela Radu
MTTLC students, Bucharest University