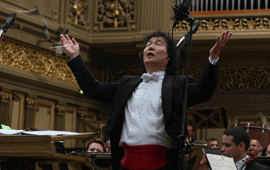 The Conductor Jin Wang and the Symphony No. 9 at the Athenaeum
Monday, 10 January 2011 , ora 8.54

Returning to the Bucharest Philharmonic Orchestra after I had listened to the "Nativity" Byzantine Oratorio before Christmas, I was to a concert conducted by Jin Wang on Friday, January 7th, 2011. From what I heard from the friends I met at the Athenaeum, it seems that the conductor's presence was the reason why the hall was filled to capacity both on Thursday and Friday, and people not only sat on stairs but they also brought their own collapsible chair from home.
Jin Wang is a conductor in which apparently contradictory features get together: large but very tense gesticulation, conveying a state of profound attention; on the other hand, small gestures, extremely full of tension, far-reaching by their intensity. Moreover, he had a perfect control of his body, an upright posture, maximum results with minimum gesticulation, even if, paradoxically, Jin Wang conducted at times in an expansive manner.
In the first part, I listened to a rude Symphony No. 9 by Beethoven, as if it had been reduced to the wood fiber without the coating; in the second part, Jin Wang seemed to simply draw the themes out of music, so that we could hear them as clear as possible; the third part was profoundly Bachian, and now and then it seemed completely contemporary in the atmosphere of film music; in the fourth part, the Bucharest Philarmonic Chorus and four vocal soloists joined in the fourth hit of this symphony composed of four parts and four hits: soprano Lavinia Mamot, with a voice floating beautifully above the hall; mezzo-soprano Sidonia Nica, well harmonized, filling richly the sonority of the vocal quartet, giving it stability and solidity; Cristian Mogoșan, that kind of heroic, whole-hearted tenor; and the imposing baritone Ștefan Ignat.
The well-known theme in the "Ode to Joy" was introduced by the orchestra in a pianissimo that kept the hall speechless, as if nobody had foreseen the relation of forces that all the musicians had to do in this fourth part of the Symphony No. 9 by Beethoven, in which they had to react fast both to the alert music and to the conductor Jin Wang's requirements. At the end, numerous applauses, an encored fragment of the last part, and the Athenaeum up preceded our departure from the concert of the Bucharest Philharmonic which took place on Friday, January 7th.
Maria Monica Bojin
Translated by Gabriela Moateru and Elena Daniela Radu
MA students, MTTLC, Bucharest University