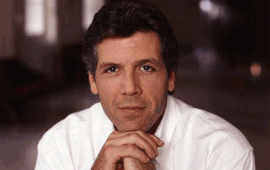 Thomas Hampson recital at Theatre Champs Elysées
Tuesday, 18 January 2011 , ora 10.35

Thomas Hampson is known as today's greatest American baritone and he has recently sung at the New York City Opera with Angela Gheorghiu. He had not performed in Paris for almost ten years. The French public did not forget the tall, charismatic baritone by whom it had been seduced in French, at the Opera Bastille… regardless him being American.
On Sunday, the January 16th 2011, the tickets at his recital in Theatre Champs Elysées were sold out. Thomas Hampson is an exception to the Parisian programs: he his not as fashionable as Jonas Kaufmann or Joyce di Donato, but he is a mature, well-accustomed artist to the international pantheon. Accompanied by Wolfram Rieger, a dazzling pianist who seemed to be reading his thoughts, Thomas Hampson proposed a very personal and eclectic program - Schubert, Mahler, and especially American songs by Samuel Barber.
His voice, voluptuous and at the same time radiant, fits well with this repertoire. The force of his voice but especially the intensity with which he lives every moment and the expressiveness of his face are two of the reasons why he must be heard in concert. The character, as well as the technique and the phrasing, are very well preserved. Perhaps a bit too well, especially in Mahler where there lacks a certain degree of spontaneity.
But Thomas Hampson is not only half involved in what he does, and every comma, every breath, are designed to reach their target. He knows how to draw the public into his world and he will not let it escape.
Alexandra Diaconu
Translated by Dana-Mihaela Toma and Andreea Velicu
MA Students, MTTLC, Bucharest University