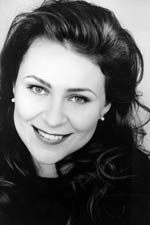 Ravel's music spells
Monday, 24 January 2011 , ora 13.05

A music hall which, was filled to capacity, welcomed mezzo-soprano
Ruxandra
Donose
on the evening of 21 January 2011, because she was invited on the stage of Radio Hall to perform two different that belong Maurice Ravel's scores:
The Spanish Hour
and
The Child and The Spells
. These operas - less famous in Romania - were presented in concert version, taking advantage of an excellent distribution; so at Ruxandra Donose`s side sang baritone Yuri Tsiple, tenor Philippe Do, soprano Teodora Gheorghiu, alto Aura Twarowska, mezzo-soprano Antonela Bârnat, soprano Tina Munteanu, tenor Valentin Racoveanu and bass Petre Burcă.
The disadvantages of performing what was composed as opera in a concert version are obvious: firstly, there is a risk that the public does not understand the plot; then it is likely that it could get bored because of the lack of movement, costumes or scenery. And it is certain that hearing - in the absence of visual impact - focuses on the voices. Fortunately, as I said before, the singers were wonderful, because Ruxandra Donose found in Teodora Gheorghiu, Aura Twarowska, Yuri Tsiple, or Philippe Do valuable, sensitive partners who possess awesome voice timbre and have valuable careers, and helped her achieve a great musical dialogue, a perfect match of their voices.
Mezzo-soprano Ruxandra Donose performed two challenging roles: in The Spanish Hour, the artist was Conception,the only female character of the work, the core surrounded by four male voices, three fans and a naïve husband, the other characters of the opera; and in The Child and The Spells, she sang the spoiled and ruthless child's score who receives a lesson on kindness from animals and toys (which suddenly become animated) that she treated cruelly over the years.
Along with the soloists and the National Radio Orchestra sang the Academic Radio Choir - conducted by Dan Mihai Goia - and Radio Children's Choir, conducted by Voicu Popescu. The baton was held by Julien Salemkour, the conductor who succeeded in leading musicians to convey the spectacular musical effects from the brilliant musician's score, Maurice Ravel.
Irina Cristina Vasilescu
Translated by Alinda-Gabriela Ivanov and Andreea Velicu
MA Students, MTTLC, University of Bucharest