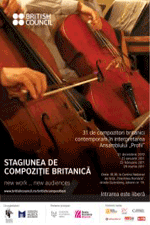 Dynamism and Exuberance at the British Composition Season
Wednesday, 26 January 2011 , ora 14.30

On the evening of January 25th, 2011, Tinerimea Română National Art Centre hosted the second recital of the British Composition Season, developed by British Council in Bucharest.
The musical evening which is part of an international programme intended to promote the contemporary English music was followed by a conference held at the National University of Music of Bucharest by Simon Bainbridge and Philip Cashian. On this occasion, the two composers presented the works of the musical programme and answered the questions asked by the audience which included the composers Doina Rotaru, Livia Teodorescu-Ciocănea, Dan Dediu, Bogdan Vodă, as well as students of the institution. The discussion topics were the concepts of time and distance in music, the school of composition in Great Britain, but also the search of new way of expression through musical language.
The work upon which the recital programme was built - performed by five members of the Profil Ensemble, led by Dan Dediu - had a simple title, Piano Trio and was created by composer Simon Bainbridge. The protagonists of the piece - with a length of around 15 minutes - were Diana Moș - violin, Adriana Maier - piano and Alexandru Duțulescu - cello, who musically conveyed the contrasts between the static continuity of the first part and the progressive building of tension (through various aspects of harmonies of 8 to 12 sounds) in the final part.
Among works of Johanthan Harvey, Philip Cashian, John Taverner and Harrison Birtwistle, the composition sang by Joe Cutler - which ended the second recital of the British Composition Season - was a burst of dynamism and exuberance, due to rhythmic variety, repetitive structures and sounds effects performed by violinists Diana Moș and Petru Nemțeanu, pianist Adriana Maier, violist Marian Movileanu and cellist Alexandru Duțulescu: in fact, the idea of intricate and mysterious musical machine, called Jiggadybox, transposed to musical notes.
Alexandra Cebuc
Translated by Mirela Oprina and Andreea Velicu
MA Students, MTTLC, Bucharest University