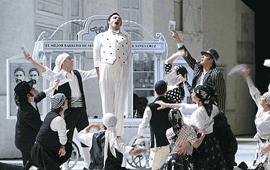 Rossini's Barber of Seville at Théâtre du Châtelet in Paris
Friday, 28 January 2011 , ora 10.49

We are much indebted to Théâtre du Châtelet for bringing Broadway to Paris. And for the touch of diversity it gives the Parisian music scene with My Fair Lady or Le Chanteur de Mexico.
It has recently brought a very famous opera by Rossini, The Barber of Seville from the Teatro Real in Madrid, with tenor Bogdan Mihai. This version matches the Parisian taste in many aspects, on January 26th, 2011 the audience even demanded an encore.
The set is, indeed, very elegant. Chock-white, baroque design, it is a mixture of luxury and austerity. And the costumes, black and white, are just as elegant. Everything stays black and white until the final scene, when love prevails and manifests itself in pink, red and other vibrant colours.
The music is conducted by Jean-Christophe Spinosi, very much appreciated for the energy he gives the baroque repertoire. And that was truly interesting at Rossini. Unfortunately, the directing was appreciated, though there was no reason for that. It has no appeal and many absurdities and platitudes. The singers were also appreciated, but had no predilection for their characters. Figaro (Bruno Taddia) is a tone deaf clown without substance, Suzanne (Anna Stéphany) is a delicate mezzo-soprano whose childish acting doesn't match her tone.
Tenor Bogdan Mihai made an unpleasantly pretentious and not at all believable Count Almaviva, but had a precise and scintillating vocal technique. His worked and mannerist musicality is much like a reminiscence of a ridiculous preciousness, dear to Molière that was successful in its country.
The possibilities were infinite, but everyone, especially the director, were fooled by the appearances of comedy - shallowness. The Barber is not a light musical comedy and, though the Châtelet audience is not a connoisseur, it's a shame for Rossini!
Alexandra Diaconu
Translated by Gabriela Lungu and Andreea Velicu
MA Students, MTTLC, Bucharest University