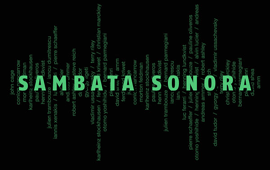 Music and technology: a new approach within `Resonant Saturday` project
Thursday, 27 January 2011 , ora 11.00

Within Resonant Saturday project - proposed by the 'Half full' Association and the National Dance Centre in order to promote resonant, radiophonic creation and contemporary music - a conference-event took place on Wednesday, January 26th 2011, in the Round Hall of the National Dance Centre. Held by Frédéric Bevilacqua, a researcher specialized in the show analysis of gestures in music and arts at IRCAM - Institute for research and coordination in acoustics and music in Paris, the conference was an adequate opportunity to approach the relationship between music and technology from a new perspective.
Invited in our country at the initiative of the French Institute in Bucharest, Frédéric Bevilacqua answered the questions of an audience made almost exclusively of young people, the conference was interactive from the very beginning. Among the subjects proposed by the French researcher was the connection between digital media - a new field of today's technology music sound and choregraphic gesture. Experiments started when the theremin was invented, in 1928 - one of the first similar electronic instruments known - and got to surprising results, one of the procedures used by IRCAM researchers is amplifying music instruments, dance movements and even some objects.
One of the examples seen and commented together with Frédéric Bevilacqua within the conference brought to the forefront the amplified violin of musician Mari Kimura from the United States of America, which, through movement sensors - in fact impulses due to bow movement - sent resonant information to the computer with which it 'communicated' through a special glove that was immediately taken and processed. It seems in the field of sounds art a new era has started, where the role of the computer gets even closer to music instrument with full powers.
Alexandra Cebuc
Translated by Zenovia Popa and Andreea Velicu
MA Students, MTTLC, Bucharest University