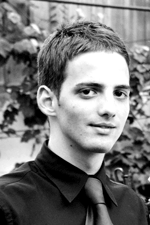 Three - magic number at Brașov Philharmonic
Friday, 28 January 2011 , ora 11.05

I left the concerto at Brașov Philharmonic on January 27th 2011 delighted to the conviction a new generation of musicians prepares to honor us at the highest levels. Three soloists, three concerts, three opportunities to enjoy music; these young people I am talking about, cellist Theodor Rusu, violinist Șerban Valentin and pianist - who you must know from the National Piano Contest during Lipatti Days - Valentin Mureșan (photo) proved a great maturity in thinking and interpreting music discourse, an extraordinary balance and great self-poise, under the conditions where not even some unruly members in the public could deviate from their path (of course, I refer to customary mobile phones ringing casually during the concert or the incontinent cough crises that mercilessly rustled the auditors).
Cellist Theodor Rusu came first in front of the audience and played a slighly 'romance' version, but not less charming, of the Concerto for cello and orchestra in C major by Joseph Haydn. I had the opportunity to listen to this young man during a recital about half a year ago and I think he evolved, proving a special impetus, but strung by flawless accuracy and minuteness Haydn's music so much requires.
Violinist Șerban Valentin followed and interpreted Concerto for violin by Alexandr Glazunov. He touched with a neat and very well controlled discourse, but also by a very pleasant tone and very adequate for this romantic concert.
Pianist Valentin Mureșan proved to be up to the standard of honors recently granted within the National Piano Contest at Lipatti Days, organized by Radio Romania Music in November last year. Sensitivity, force, accuracy, particular touch in perfect balance during Piano Concerto by Edvard Grieg. The pianist proved a phenomenal intuition valuing each music phrase, using dramatic, playful or serious tone as the case may be. He also worked very well and precisely together with the orchestra.
The members of Brașov Philharmonic ensemble, conducted by Ovidiu Dan Chirilă, seemed also animated by the impetus and the vigour of young soloists they accompanied with a neat and clean interpretation of the score for tutti.
The three soloists were applauded intensely and for a long time, this is why they did an encore before ringing down the curtains over a beautiful and lively evening.
•
At the concert Valentin Mureșan confessed to Larisa Clempuș:
I worked with the Brașov Philharmonic Orchestra in the last period. Actually, I started playing with this ensemble interpreting Joseph Haydn's Concerto in D major and then I had the opportunity to play Ludwig van Beethoven's Fantesy for piano, choir and orchestra, a year ago. It is an opportunity to play together with this orchestra and I am glad they agreed to it. I hope it will be beautiful. Maestro Ovidiu Dan Chirilă will be conducting from the music stand.
In the following period I'm thinking of new projects: competitions, workshops.
Petra Gherasim
Translated by Zenovia Popa and Andreea Velicu
MA Students, MTTLC, Bucharest University