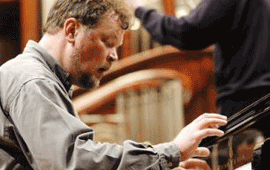 Pianist Nikolai Demidenko - an extraordinary concert at the Radio Concert Hall
Monday, 31 January 2011 , ora 9.47

Nikolai Demidenko's presence on the Mihail Jore Concert Studio's stage on Friday, January 28th 2011, was an unexpected one - the numerous audience that occupied all the seats and the stair steps demonstrated it. The majority already knew Demidenko, either because of his recordings or because of his previous appearances as a soloist, as this was not the musician's first visit to Romania.
Nikolai Demidenko is a name that speaks for itself about quality and excellence, so that those who came on Friday to listen to him have assimilated with excitement every sound of the renowned musician. Of course that, talking about a performance filtered through hundreds of personal sensibilities, at the end, the opinions were divided. For some it was extraordinary, magical, for others the impression was not a superlative one. There has been talk about some disaccords between the soloist and the orchestra, the cold sonority of the piano or the passages that were careless from a technical point of view from the beginning of the Concert No. 2's third part by Sergei Rachmaninov.
Looking past these pro and con opinions, one thing is certain: Demidenko has that rare capacity to communicate with the audience, to touch their souls. His vision of the piano score is a profound one, connected, a look in the depth of the musical act that is reflected, through the artistic retina, on the outside. It is not easy to interpret The Concert No. 2 by Sergei Rachmaninov after so many famous versions, to try and add something new, personal to it. Friday evening, Demidenko preferred a temperately romantic approach, closer to the essence of the Russian spirit, which in itself is also sober, not only pathetic. Beside the lyrical effusion, beside the apparent brilliance there is always the reflexive, bitter or anxious side. This is what I also felt duringSymphony No. 8 by Dmitri Shostakovitch, rendered in the second part of the evening by the National Radio Orchestra lead by Cristian Mandeal, a difficult opposite both from a musical point of view and as an expressive palette.
To the audience's satisfaction, the musicians on the stage, lead by Cristian Mandeal - who was in a great shape - have positively responded to the challenge and offered a version that is not to be neglected, a version that had a bit of everything: sensibility, sharpness, ferocity and aplomb. It was a good concert, with a valuable level that we would always like to experience, and the three encores offered by Nikolai Demidenko (two pages of Chopin and one of Scarlatti) surely will not be forgotten too soon; they will dwell in our memory with the miraculous load of the last key that once hit, leaves behind it a silence steeped with music.
Ioana Marghita
Translated by Izabella Feher and Andreea Velicu
MA Students, MTTLC, Bucharest