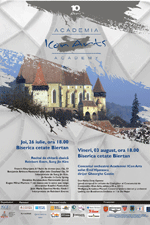 2012 ICon Art Festival and Academy
Monday, 6 August 2012 , ora 8.09

For two weeks I was the witness of an impressive event, from an organizational point of view as well as from an artistic one.

Classes
Starting with 22nd July, in Sibiu as well as in the surrounding areas of this cultural centre, the tenth edition of the ICon Art Festival and ICon Art Academy began, and the attendance this year meant more than 100 students from America, Europe and Asia.
There was an intense working rhythm, where, from morning till evening, talented young people tried to grow under the supervision of maestros such as percussionist Mircea Ardeleanu, cellist Adrian Mantu, violinist Ladislau Csendes, conductors Gheorghe Costin and Gabriel Babeselea, clarinettist Emil Visenescu, jazz artists Luiza Zan, Mircea Tiberian, Chris Dahlgren.

Concerts
The organizers, UCIMR and XCS Music delighted us with thirteen, differently themed concerts. In the last few days I've witnessed several interesting musical manifestations. The ICon Art Academy concert was impressive, from the Fortified Church in Biertan, a gorgeous location, where the works by Mozart and Beethoven had special sympathy. At the Gong Theatre in Sibiu took place the concert of the jazz classes, and where the attraction of the evening was the similarity of an instrument like viola da gamba to free jazz, protagonist the American Chris Dahlgren, who performed together with Mircea Tiberian and several very talented students.
The final concert of the musical performance classes took place in a very special setting, in Bazilica, in a Roman fortified style from Cisnadioara, which dates from the second half of the 12th century and which was guarded in the horizon by the Faragas mountain strip. In this blessed place the diplomas for attending the tenth edition of the ICon Art Academy were handed to the students.
The last concert of the festival took place in the Thalia Hall of the Sibiu Philharmonic. The orchestra of the Academy surprised us once again with the level it had reached after working only ten days under the baton of conductor Gheorghe Costin: an ensemble made up of very young musicians who impressed the audience with sonorous constructions, logical in their reality and through their homogeneity. The programme was comprised from two operas by Mozart, 'Serenade in D major' and 'Concert for clarinet and orchestra' soloist the exceptional Emil Visenescu, 'Symphony No.1' by Beethoven, and a piece by the winner of the ninth edition of the ICon Art composition competition, Dan Bariu, titled 'Dance for the Oas County'.
Sebastian Crăciun
Translated by Florina Sămulescu
MTTLC, Bucharest University