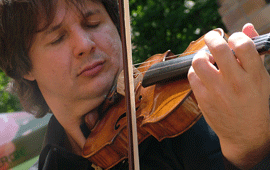 'Magic Summer' Season - Liviu Prunaru and His Guests at the Romanian Athenaeum
Thursday, 9 August 2012 , ora 12.35

The Magic Summer festival continued at the Romanian Athenaeum on Wednesday, 8
th
August, 2012, with a chamber concert held by violinist Liviu Prunaru, concert master of the Concertgebouw Orchestra from Amsterdam and his guests: pianist Maruxa Llorente from Spain, violinist Cristian Ifrim who is also currently performing in Spain, contrabassist Dorin Marc - professor at Nürnberg, cellist Marin Cazacu, violinists Rafael Butaru and Roxana Oprea - concert masters in the Romanian Youth Orchestra and violist Cristian Andris, first viola of the same ensemble, musician who studied in Spain, Germany and Switzerland.
For the first part of the concert a piece heard in first audition in Romania was chosen - 'Octet for Strings in B-flat major' by Max Bruch, which was finished by the composer in 1920, at 82 years old and only a few months before his death. The piece was not published until 1996 and, although it belongs to the 20th century, the compositional style is connected to Romanticism. Violinist Liviu Prunaru 'set the tone' of the ensemble, who reflected through their performance the melancholy, drama or exuberance of every part of the score.
In the second part, there followed Antonin Dvoűák's 'Piano Quintet No. 2 in A major', a piece about which Liviu Prunaru stated: '...it's an old desire of mine to play it. Everybody shies away from this quintet but I'm glad I've found partners willing to try it and everybody was happy, they said 'oh what a beautiful piece'. You must realize that was music to my ears'.
One could say that the violinist truly found his 'partners': pianist Maruxa Llorente, violinist Valentina Prunaru, violist Christian Ifrim and cellist Marin Cazacu managed beautiful instrumental dialogues but also successful tutti moments, in which we felt the joy in performing chamber music, in listening to one's partners and completing them.
How Liviu Prunaru felt on stage together with these musicians, we found out right after the ending of the concert: 'There's a mixture of emotions in my head, we are all heated after such a tumultuous programme. Primarily I'm feeling a sensation of pleasure and pride that I was able to play together with such valuable artists, especially since they are all Romanians, even my wife who is Russian is Romanian (he laughs). So it was a great joy and right when we finished my wife told me 'We've performed at the Athenaeum, do you realize?!' It's a great pleasure, always and especially when I return home, you realize, it's a personal joy for me.'
You can listen to Liviu Prunaru again in Romania...
'... on 11th August in Sinaia, then in a new duel with Gabriel Croitoru, some concerts in Cluj, Craiova and again in Bucharest in November, when I will return with Dvoűák's Concert.'
Andreea Chiselev
Translated by Florina Sămulescu
MTTLC, Bucharest University