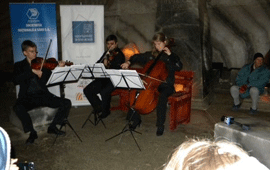 Classical Music in Romania's Salinas
Tuesday, 14 August 2012 , ora 9.06

Icon Arts Trio began their journeys to the centre of the Earth. The first two concerts of the 'Romania Underground' national tour took place. The first salinas where classical music was heard were the ones from Slanic Prahova and Targu Ocna.
The adventure began as soon as we descended, with a fast elevator that can reach 204m underground in tens of seconds. And there, a fantastic landscape awaits us, with an amazing acoustic.
A numerous audience watched the Icon Arts Trio recital, a band made up of extremely valuable, studious and passionate young people, guarded by the statue of Decebal at the entry. Violinist Simon Csongor, violist Bogdan Eugen Cristea and cellist Csilla Kecskes Aved brought to the highest European salina, Slanic Prahova (54 meters) quality sounds which shaped a musical journey through three creative centuries. We listened to short pieces by Telemann, Schubert, Mozart, Compagnoli, Cosma and Julius Fuèík.
The same well-chosen programme well performed and well adapted to this type of concert and which was dedicated to an audience who, perhaps, found itself for the first time facing this kind of experience, was resumed a day later, on 13th August, at the Targu Ocna salina, in Bacau county. The descent to 240 meters was spectacular, with a minivan, through three kilometres of roadways with dangerous serpentines.
The audience was also pleasantly surprised by the innovative event, and in the end gave the performance of the young musicians a standing ovation.
The tour 'Romania Underground' will continue on Wednesday, 15th August, at the Cacica salina, where the Icon Arts Trio is scheduled to perform from 12 p.m. in the Ball hall, on Friday, 17th August We will descend underground, in Praid, and on Suday, 19th August the music can also be heard at the Ocnele Mari salina near Ramnicu Valcea.
Sebastian Crăciun
Translated by Florina Sămulescu
MTTLC, Bucharest University