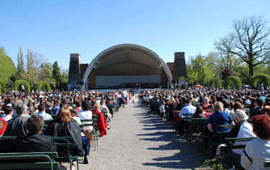 The Opera and Operetta Festival in Timisoara
Monday, 27 August 2012 , ora 9.30

Just like the last years, the Roses Park was, on Friday, 24th August, 2012, full of people who came to listen to opera and operetta during the eighth edition of the Opera and Operetta Festival presented by the Opera House in Timisoara. The first performance was 'Cavalleria Rusticana', followed by 'Pagliacci'. The audience was thrilled.
*
How do you find the idea of an open-air performance?
The idea of a performance is always extraordinary, but an open air one has the advantage of drawing in a very different and numerous audience, at the same time.
How do you think an opera piece sounds like in an open-air performance?
Anything can sound extraordinarily in an open-air performance, but it ultimately depends on the quality of the performance, it does not matter if it's an indoor or an outdoor one.
*
What do you think about this type of performance?
As far as I know, I think it is a singular initiative for the Opera House in Timisoara to perform open-air performances, and, from my point of view, I think it's extraordinary. I don't believe other cities had this type of initiative.
*
How do you think it sounds like, out here in the park?
Exceptionally. Anyone can come, even right off the streets. They don't have to go somewhere, in an enclosure.
Will you bring your friends to the performances?
Yes. I've even sent them messages.
And what did you say in the message?
Come! There's a concert going on!
On Monday, 27th August, 'The Land of Smiles' will be performed, an operetta in three acts by Franz Lehár, a happy occasion for music lovers, because the performance will be conducted by Peter Oschanitzky. In the cast, among others, will be Cristian Balasescu, Dan Spanache and Mihaela Marcu.
On Tuesday, 28th August, in the Roses Park will be the Gala for Opera, Operetta and Ballet. Just like on Monday, the show will start at 8:30 p.m. Among those who will sing is also Lacramioara Cristescu who, just like the other soloists, is nervous about singing in the open-air:
'It's my second year when I sing in the open-air show. It's much more difficult because of the sound system, but the atmosphere in the park and the audience make up for it.'
The performances, presented by the Romanian National Opera in the Roses Park, start at 8:30 p.m. and the entrance is free.
A second part of the Opera, Operetta and Ballet Festival will take place next week. On Friday 'Der Zigeunerbaron (The Gypsy Baron )', on Saturday 'Carmen', and on Sunday there will be two shows 'Hänsel und Gretel (Hansel and Gretel)' at 12.00 p.m. and 'Die Fledermaus (The Bat)' at 8:30 p.m.
Felicia Secoșan, Radio Timișoara
Translated by Florina Sămulescu
MTTLC, Bucharest University