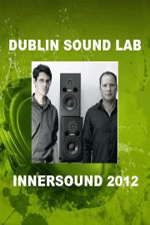 InnerSound 2012: Dublin Sound Lab on the Stage of NUMB
Wednesday, 29 August 2012 , ora 15.14

On Tuesday, 28th August, 2012, started the first edition of the InnerSound Festival, a festival primarily dedicated to promoting new music on the stages in Bucharest. And as such, on Tuesday night, two events took place in the opera studio of the National University of Music Bucharest.
The first was the recital of the duo Dublin Sound Lab, comprised of Michael Quinn - harpsichord and Fergal Dowling - computer. The proposed repertoire was one that explored the coarse sonority of an instrument that is normally associated with old music bands. The pieces performed or played (as the case might be) were: 'Jardin Secret II' by Kaija Saariaho, 'Sur les Pointes' by Gerald Barry, 'Sketch' by Fergal Dowling, 'Dying from the Moment It's Struck' by Jonathan Nangle and 'Pentacle' by Jean-Claude Risset.
The second event of the evening was the SerpenS multimedia show, music by Diana Rotaru, carried out by SeduCant group.
In the interlude between the artistic moments I've talked with Fergal Dowling and Michael Quinn, the members of the Dublin Sound Lab group.

The audience is used to encounter the harpsichord in a music group dedicated to Baroque music. How did you think of such an unusual combination?
F.D.: Michael and I know each other since college, when we collaborated for a while, performing several contemporary pieces. We then took our separate ways, and only a few years later, when we met again and started performing together did we began searching for a right repertoire where we can bring together the harpsichord and electronic sounds. We also created our own pieces and we found in the works of other composers pieces to develop a repertoire for this combination.
M.Q.: As a performer it is interesting to see what sonorities the contemporary composers look for in harpsichord music. In the Baroque repertoire, this is an instrument that generally has the role of a continuo. But in the new music, it is something similar to chamber music, in the sense that the electronic part does not only ensures a background, usually the roles are equally distributed and, as it was the case with Risset's piece we've performed tonight, the computer is the centre of gravity.

Are there a lot of composers who compose for this type of band?
F.D.: There is a nucleus of composers who wrote works for harpsichord and computer, a nucleus that is expanding. There are some French pieces that were written and there is also a growing repertoire in England. Some works in Germany, some in Austria that we know of. Actually, this type of phenomenon seems to be generated by the performers and not by the composers.
Radu Mihalache
Translated by Florina Sămulescu
MTTLC, Bucharest University