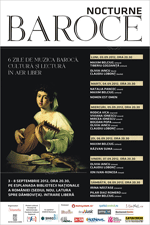 Baroque Nocturne: Bach, Vivaldi, Scarlatti and Händel on Dambovita's Bank
Thursday, 30 August 2012 , ora 12.48

Between 3rd and 8th September, 2012, on the esplanade of the Romanian National Library, near the Unirii Boulevard, one can hear, after nightfall, sounds of Bach, Vivaldi, Scarlatti and Händel, during the first edition of the 'Baroque Nocturne' Festival. For six days, the artists are leaving the concert hall and come to perform on Dambovita's bank, bringing to the first autumn nights a breath of music, literature and Baroque culture. An undeniable offer for the last week of holiday, even more so since the concerts are free of charge, and Baroque music gives the neurons, as professor Ioan Bradu Iamandescu noticed, the author of the first music therapy studies in Romania, 'a rhythm fit for genius'.
The festival will open on Monday, 3rd September, at 8:30 p.m., with a lute and theorbo recital held by Olivia Iancu and Claudiu Lobont, when the audience will have the chance to savour the subtle charm of these instruments, which are vetust for some, but which regain their sonority in the hands of talented musicians. In the second part of the evening, guitarists Maxim Belciug and Tiberiu Gogoanta, the first time they appear as a duo, will perform a programme with pieces by John Dowland, Antonio Vivaldi and Johann Sebastian Bach.
The second day of the festival proposes a violin and guitar recital that has as centre stage violinist Natalia Pancec, followed by the medieval performance of those from Nomen Est Omen.
On Wednesday, soprano Rodica Vica and her ensemble, bring on Dambovita's bank the sympathy of gala nights, in a concert with works by Händel and opera arias.
On Thursday, 6th September, there is a special night, with two soloist recitals: guitarist Maxim Belciug and cellist Razvan Suma, who play their instruments, one after another, in a two part programme, with works by Gaspar Sanz, Ernst Gottlieb Baron, Robert de Visée, François Couperin, Jean Philippe Rameau and, of course, Johann Sebastian Bach.
On Friday, Olivia Iancu and Claudiu Lobont give up their period instruments and this time play the guitar, to offer the audience a duo recital, with works by famous composers, like Domenico Scarlatti or Santiago de Murcia. The programme continues with the noble sounds of the harp played by Ion Ivan-Roncea, an accomplished maestro of this graceful instrument.
On Saturday, during the first part of the evening, there is a harpsichord recital with Irina Nastase as protagonist. The festival will close with the soloist Pilar Diaz Romero, in the passionate sounds of Neapolitan music from 16th-18th century.
The concerts will take place on the esplanade of the Romanian National Library (the new headquarters, from no. 22 Unirii blvd.), on the right side of the building, towards Dambovita river. The entrance to all the concerts is free of charge.
The festival's complete programme can be viewed on www.kitarodia.ro
Florina Sãmulescu
MTTLC, Bucharest University